Archives

(Note: These items are presented as is.
Some links are outdated and may not work any more.)

2022

BWPS TWENTIETH ANNIVERSARY BOOK
Author David Leaf is currently preparing a book to celebrate the 20th anniversary of Brian Wilson Presents SMILE (BWPS). This history, appreciation, and celebration will be published by Omnibus Books in 2024. With the idea of creating an oral history of BWPS' London premiere and subsequent world tour, Leaf is asking fans who attended any of the live BWPS shows to send him a short reminiscence (about 150 words) to bwps20th@yahoo.com. More info. (updated 9-11-23)

CHRISTIAN LOVE'S ONLY ALIBIS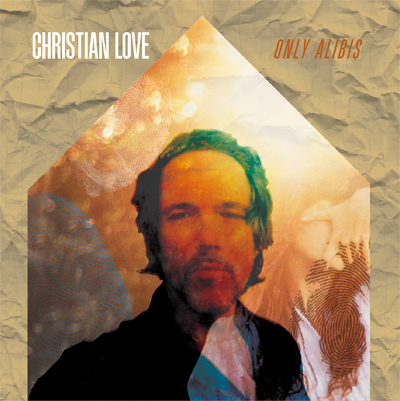 Christian Love, son of The Beach Boys' Mike Love, has just released his first full-length album, Only Alibis. The album is available in CD and digital formats and via streaming services. Matt Jardine makes a guest appearance on the track "Sum Sum Summer." Fellow BB Band members Tim Bonhomme, Keith Hubacher, and Randell Kirsch help provide instrumentation. More info. (9-11-23)

AL JARDINE'S BIRTHDAY MAUI HUMANE SOCIETY FUNDRAISER
Al Jardine is hosting a fundraiser for the Maui Humane Society. He says: "For my birthday this year, I'm raising money for Maui Humane Society to help with their rescue efforts of animals affected by the horrific fires in Lahaina. Your contribution will make an impact, whether you donate $5 or $409 and every little bit helps." If you'd like to make a donation, go to Al's Facebook fundraiser page or the Maui Humane Society's homepage. (9-2-23)

MIKE LOVE FIRST PITCH
Mike Love threw out the first pitch for the Cleveland Guardians vs. Toronto Blue Jays' baseball game at Progressive Field in Cleveland, OH, on Tuesday, Aug. 8, 2023. Videos here and here. (updated 8-9-23)

IN MEMORIAM: STERLING SMITH
Sterling Smith, keyboardist in the BB's supporting band during the '70s, passed away on July 27, 2023. Bobby Figueroa (Beach Boys Band, Endless Summer Band, and California Surf Incoporated) said: "Dennis Wilson brought Sterling Smith into The Beach Boys touring band during the stadium tours in the '70s. He was fantastic and we all loved him. California Surf Incorporated has lost one of our finest musicians." (updated 7-27-23)

NEW BEACH BOYS BOOKS ON THE WAY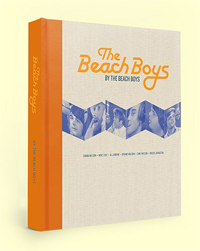 A new book compilation, The Beach Boys by The Beach Boys, will be published December 2023 in a deluxe, book-collectors' limited edition from Genesis Publications, consisting of 500 signed copies worldwide. The band's story is told through through the BBs' own words — from Brian Wilson, Mike Love, Al Jardine, Dennis Wilson, Carl Wilson, and Bruce Johnston — with 400 pages lavishly illustrated with rare and iconic photographs from the Capitol Records' and the band's own personal archives, along with historical ephemera from the band. The Deluxe edition has high-end binding and slipcover and is signed by 4 of the surviving BBs. Rolling Stone reports that a "bookstore" hardcover edition of the book will be published in 2024.


The Beach Boys Official Coloring Book, by David Calcano and Giggens, with intro by Howie Edelson and illustrations of the band by Lindsay Lee and Juan Riera, is set for a July 18, 2023 (UK) / September 12, 2023 (US) publication date. Calcano and Lee also have another BBs book coming out this fall, The Beach Boys Present: The ABC's of California. This hardcover children's book will be out in March 2024.


Former '70s BB sideman Carli Muñoz has written an autobiography, A Fool's Journey: To the Beach Boys and Beyond, set for publication October 2023. (updated 8-6-23)

BEACH BOYS ALBUMS STREAMING IN DOLBY ATMOS
Six of The Beach Boys' classic albums — All Summer Long, Surfin' USA, Surfer Girl, Little Deuce Coupe, Shut Down, Vol. 2 and Pet Sounds — are now available in a Dolby Atmos mix, for those who have a compatible audio setup for the surround sound format. Available for streaming on Apple Music, Amazon Music Unlimited, and Tidal.


Giles Martin prepared the Pet Sounds mix at Abbey Road Studios. Watch him talk about the project. More PS info. (updated 7-21-23)

NEW MIKE LOVE RELEASE
Mike Love has released a new album, Mike Love Not War, currently available as a digital download for select concert venue ticketholders, as well as streaming. You can listen to the whole album on YouTube. (updated 7-9-23)

BEACH BOYS SIRIUS XM CHANNEL RETURNS
Subscription satellite / online radio service Sirius XM has brought their limited-run, full-time channel dedicated to The Beach Boys back for this summer, running from June 29 – July 29, 2023. Good Vibrations: The Beach Boys Channel is located at channel 104 and features the BB's hits and rarities, as well as solo and related material. (updated 6-29-23)

BEACH BOYS FEATURED ON NIGHT OF SHOW EPISODE, MAY 8th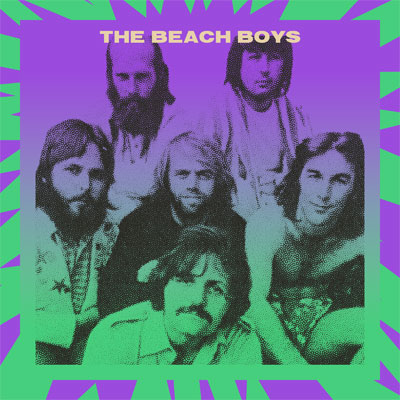 A new podcast, Night of Show, focuses on behind-the-scenes stories about the pressures prominent pop and rock artists faced for some of their biggest performances. Concert promoter Adam Wilkes and author Tom Wright are hosts. Episode 3, "The Beach Boys, Nancy Reagan, and a Ban on the 4th of July," drops on Monday, May 8, 2023. This episode relates the events of 1983, when Interior Secretary James Watt banned rock concerts on the National Mall for the annual July 4th celebration, resulting in heavy pushback from BB fans, including the First Lady of the U.S., and a resurgence of popularity for The Beach Boys. Night of Show is available wherever you get podcasts; a list of providers is available on their website. (updated 5-5-23)

MIKE AND JACQUELYNE LOVE TO RECEIVE POINTS OF LIFE AWARD
Mike and Jacquelyne Love will be among the honorees at the George H.W. Bush Points of Light Awards Celebration on October 26, 2023. Mike and Jacquelyne are being recognized for their long history of philanthropy, including their support for youth empowerment, health education, and environmental causes. (updated 5-4-23)

GRAMMY SALUTE TO THE BEACH BOYS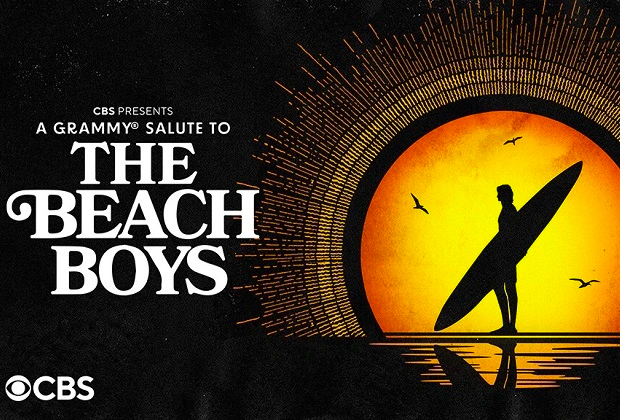 A Grammy Salute to The Beach Boys tribute concert was held Feb. 8, 2023 at the Dolby Theatre in Hollywood, CA. Beach Boys Brian Wilson, Mike Love, Al Jardine, David Marks, and Bruce Johnston were feted with performances of their songs by fellow artists, including John Legend, Brandi Carlile, St. Vincent, Beck, Fall Out Boy, Mumford & Sons, Weezer, Charlie Puth, LeAnn Rimes, My Morning Jacket, Norah Jones, Pentatonix, Lady A, Michael McDonald, Take 6, and more. John Stamos was one of the show's hosts. The concert will air Sunday, April 9 at 8 p.m. ET/PT on CBS Television and will also run on its streaming service, Paramount+. Watch the show preview, an interview with Al Jardine, and an interview with Bruce Johnston. There are also some fan-posted videos from the show on YouTube. (updated 4-6-23)

AL JARDINE'S SPCA MONTEREY CO. FUNDRAISER
With all the recent storms in California, especially in Monterey County, Al Jardine has set up a fundraiser to help SPCA Monterey County evacuate animals and pets that have been affected or displaced by all the flooding, most notably in the Pajaro River area. If you'd like to make a donation, go here. For a $50 donation, Al will send you an autographed postcard and for $100, you'll get an autographed CD of A Postcard from California. (3-31-23)

CHANGES AT BBFC
Because BBFC's President Alice has recently been diagnosed with macular degeneration, which will prevent her from reading print or a screen, the physical (print) BBFC has just ended. The most recent newsletter, Spring 2023, featuring a lengthy interview with author David Leaf, and other recent newsletters are available for the asking. The 50 S. Emery St. #4E, Pahrump, NV 89048 address will also stay open at least for the next few months. Thank you for your understanding. This website will stay up, as well as the BBFC Facebook page; please check back for updates. (updated 3-29-23)

ESQ UPDATE
Endless Summer Quarterly, which has to be about the best Beach Boys periodical there is, is preparing its Summer edition about The Beach Boys 1985 album, as well as an upcoming edition focusing on the MIU period with new interviews with Al Jardine, Ron Altbach, and more. The current edition, Issue 141, features "Brian Wilson's Relationship Music." More information. (updated 3-11-23)

IN MEMORIAM: RON ALTBACH
Ron Altbach, keyboardist and co-founder of King Harvest and Celebration, as well as a member of the BB's supporting band in the '70s, passed away on Feb. 21, 2023. Mike Love said: "So many of us who had the good fortune to know him are saddened by the loss of a treasured friend ... we all feel a huge loss with his passing." Al Jardine said: "Rest in peace my good friend Ron Altbach, one of my favorite songwriting partners who I wrote 'Lady Lynda' with. He was the best of all of us and will be sorely missed." (updated 2-26-23)

"GOOD VIBRATIONS" NAMED HAPPIEST SONG
The Beach Boys' "Good Vibrations" has been declared the the song that makes people happiest, according to a formula created a University of Sheffield professor. According to Study Finds, musicologist Dr. Michael Bonshor's formula postulates that "the combination of a major key, 7th chords, 137 BPM, strong beat, four beats in every bar, and a verse-chorus-verse-chorus structure is a sure-fire way to produce a happy beat. It should also have a short intro, repeated riffs, high volume, bright tone, and a mix of predictability and surprise." "Good Vibrations" meets all of his criteria and tops his list of happiest songs. (2-16-23)

ENDLESS SUMMER QUARTERLY
Endless Summer Quarterly (ESQ) magazine's Fall 2023 edition (Issue #143) features an in-depth interview with The Beach Boys: An American Band director, writer, and producer Malcolm Leo. Malcolm shares intimate details about the filming and editing of An American Band and provides a treasure trove of behind-the-scenes stills from the documentary. Also featured is a new interview with musician/songwriter Jeffrey Foskett, as well as "Chasin' the Sky" producer Spencer Proffer, and singer/songwriter Rand Bishop.


The Summer 2023 edition (Issue #142), about The Beach Boys 1985 album, features a great in-depth interview with Steve Levine that takes us inside the recording studio for the making of the album; Jerry Schilling shares his memories on the transitional phase of the group continuing without Dennis Wilson; Andrew Doe recounts the day he was in the studio with The Beach Boys; and Craig Slowinski, John Brode, Will Crerar, and Joshilyn Hoisington provide an album sessionography. This edition of ESQ is the first volume of a two-volume set, with the Fall 2023 ESQ contiuning with Vol. 2.


The Spring 2023 edition ESQ (Issue #141) offers an intimate interview with Richard Maier, providing a telling narrative about friendship born out of kindness that flourished during some of Brian's greater challenges; an evaluation of Brian Wilson's unfinished music and where it might have taken him if he had remained untarnished by the music industry and unsettling life events; further discussion with Jon Parks of the what, when, where, and who as it relates to The Beach Boys' tour history. Plus, an insightful discussion with Mark Linett and Alan Boyd about the recent box sets, and what might be next if they have their way.


The Winter 2022 edition of ESQ (Issue #140) celebrates Billy Hinsche's life — featuring Al and Mary Ann Jardine, Gerry Beckley, Wendy Wilson, Jeffrey Foskett, Mike Love, Chip Rachlin, Jon Parks, Carnie Wilson, Bobby Figueroa, John Daly, Jerry Schilling, Barbara Wilson, and Carl B. Wilson. Also included is an intimate interview with an old Wilson-Hinsche family friend. Plus The Beach Boys' Morrison Hotel Art Gallery exhibit.


SUBSCRIPTIONS / SINGLE ISSUES: To subscribe to ESQ online, and receive four, 48-page editions of content on The Beach Boys, go to ESQuarterly.com. Subscription rates are US $30 for 4 issues ($35 for Canada and Mexico; $40 throughout the rest of the world). Individual issues are $10 for US, $12 for Canada & Mexico, $14 for other countries. U.S. funds only. Make checks payable to Endless Summer Quarterly. Send to ESQ at P.O. Box 470315, Charlotte, NC 28247. ESQ also accepts Paypal payments. Visit the ESQ Store at ESQuarterly.com for individual issue purchases.


Current subscribers, as well as new subscribers to ESQ, will be eligible for upcoming collectibles giveaways. To check on your subscription status, email Lee Dempsey. (updated 3-11-23)
Maintained by the webteam | Last updated September 11, 2023