Archives

(Note: These items are presented as is.
Some links are outdated and may not work any more.)

2012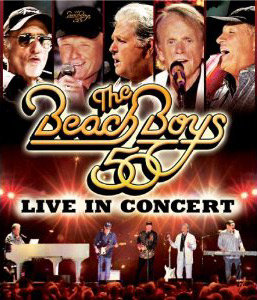 NEW AND UPCOMING RELEASES FOR 2012
The Beach Boys' Live in Concert: 50th Anniversary will be released on DVD and Blu-Ray on Nov. 20. Record Store Day's "Back to Black Friday" vinyl releases include a Beach Boys 10-inch single reissue of "Surfin' Safari"/"409" backed with "Isn't It Time"/"From There to Back Again"; only in local, independent record stores. Billy Hinsche's Home Movies will be released in December, featuring previously unseen footage and photos from the Hinsche and Carl Wilson families, including the Wilson brothers and other Beach Boys. (updated 12/2/12)

BB REUNION TOUR ENDS
The Beach Boys' 50th Anniversary Celebration tour ended on September 28, 2012, in London. Thank you so much, guys — that was truly splendid! Please consider "doin' it again" soon! In the meantime, Mike Love and Bruce Johnston will resume their tour, in pre-reunion formation. (updated 9/29/12)


NEW CATALOG REISSUES IN STEREO AND MONO
Twelve Beach Boys studio albums have been digitally remastered by Mark Linett and released on CD and digitally, most featuring mono and stereo mixes on the same disk. The albums are Surfin' U.S.A., Surfer Girl, Little Deuce Coupe, Shut Down, Volume 2, All Summer Long, Today!, Summer Days (And Summer Nights!!), Party!, Pet Sounds, Smiley Smile, Sunflower (stereo mix only), and Surf's Up (stereo mix only). These releases mark the stereo debut of Smiley Smile and Party!, while Today! and Summer Days (And Summer Nights!!) are being released in stereo for the first time in their entirety. (updated 9/24/12)

BEACH BOYS TWITTER INTERVIEW
A live Twitter interview with The Beach Boys (Brian Wilson, Mike Love, Al Jardine, Bruce Johnston, and David Marks), was held on Tuesday, September 18, 2012. A transcript of the questions and responses is located here. (updated 9/22/12)


BEACH BOYS REUNION!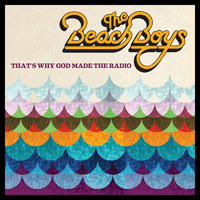 The Beach Boys reunited for a global 50th Anniversary Celebration this year. Brian Wilson, Mike Love, Al Jardine, Bruce Johnston, and David Marks released a new studio album, That's Why God Made the Radio, on June 5th, which promptly debuted at number 3 on Billboard's Top 200 Albums chart a week later — the highest charting start for any Beach Boys album. Congratulations, guys!


The first single from the new album is the title track, "That's Why God Made the Radio" (available in digital and vinyl 45 formats). Other tracks on the album include "Think About the Days," "Isn't It Time," "Spring Vacation," "The Private Life of Bill and Sue," "Shelter," "Daybreak Over the Ocean," "Beaches in Mind," "Strange World," "From There to Back Again," "Pacific Coast Highway," and "Summer's Gone." That's Why God Made the Radio is available in CD, digital (including high-res digital), and vinyl LP formats.


There will be commemorative catalog releases with Capitol/EMI — twelve studio albums reissued in stereo/mono editions, two hits packages (including 50 Big Ones, with the new single version of "Isn't It Time"), and Made in California, a career box set (fall release). An international tour included headlining performances at the New Orleans Jazz Fest and at Bonnaroo. Read the full press release. Watch the "Do It Again" video on the official BBs YouTube channel and watch promo videos for That's Why God Made the Radio on the Beach Boys' VEVO channel.


The five Beach Boys appeared at the Grammy Museum in Los Angeles on Sept. 18th, with an acoustic set and Q&A sessions, at the opening of a special 50th anniversary exhibit at the museum. The BBs will also be performing a concert for broadcast on BBC Radio 2's In Concert program. This will take place on Sept. 24th at The Mermaid Theatre, Blackfriars, in London, England at 6 pm. Radio 2 is giving away 200 tickets to lucky fans for this concert. The show will be available for listening on BBC Radio 2, including online via their iPlayer up to a week after the original broadcast.


The BBs made their first reunion appearance at the Grammy Awards on February 12th, joining with bands Foster The People and Maroon 5 for a special performance (the BBs' first live appearance together since 1996). Links to photos from the Grammy show are here and here, plus a post-performance interview here.


The Beach Boys performed "Surfer Girl" and sang the U.S. national anthem before the Dodgers' baseball game in Los Angeles on April 10th. More. (updated 9/10/12)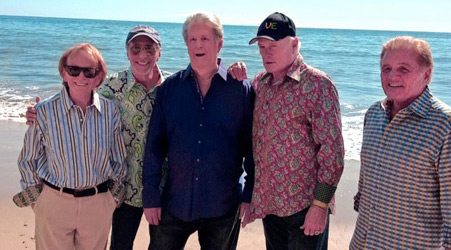 BB REUNION ON PBS' FRONT ROW CENTER: The Beach Boys will be appearing on the PBS music series Front Row Center, on or around June 7, 2012 (see your local PBS station's listings for exact day and time). This 1-hour episode features footage from the BB's May 2nd concert in St. Augustine, FL, with a look back at their career, never-before-seen archival concert footage, and songs from their new album, That's Why God Made the Radio. It was released on DVD and Blu-Ray on August 28th. A 2-hour special is also rumored to be in the works.


The BBs recorded an in-studio concert for SiriusXM's Artist Confiential series, to run Saturday, May 26th at noon ET. (SiriusXM is a subscription radio service.) More info. (updated 6/5/12)
TV Appearances:

April 29, 2012 — CBS Sunday Morning, feature story with interviews; transcript here

May 7, 2012 — Late Night with Jimmy Fallon, NBC, multi-song performance and interview

May 16, 2012 — QVC, with a special hour-long live performance, watch online
May 18, 2012 — Charlie Rose, PBS, watch online

June 6, 2012 — Access Hollywood, interview with Brian and Mike about "Good Vibrations," watch online
June 6, 2012 — Tonight Show With Jay Leno, watch the BBs perform "That's Why God Made the Radio" online
June 7, 2012 — Front Row Center, "The Beach Boys: Doing It Again," PBS (now available on DVD)
June 15, 2012 — New York City, NY (Central Park, Good Morning America's Summer Concert Series, 7 a.m., free show)
September 25, 2012 — Later Live with Jools Holland on BBC 2, 10 p.m. UK time
Online Appearances:


The Beach Boys' offspring have joined together to form a new next-generation band, California Saga, to honor their parents' legacy and write a new chapter in the extended BB family's musical saga. This group of seasoned musical vets includes Carnie and Wendy Wilson (Brian Wilson's daughters), Christian and Ambha Love (Mike Love's son and daughter), Justyn Wilson (Carl Wilson's son), Carl B. Wilson (Dennis Wilson's son), and Matt and Adam Jardine (Al Jardine's sons). Billy Hinsche (Justyn's uncle) and Rob Bonfiglio (Carnie's husband) head up the supporting band. One of California Saga's focuses will be on the lesser-heard songs in the BB's canon. They will be performing a couple of numbers at The Beach Boys' Hollywood Bowl show, opening for the BB's Irvine and Lake Tahoe shows, and are planning to tour. Carnie, Wendy, Matt, and Rob will also be on tour with Wilson Phillips this year. (updated 6/13/12)

Brian Wilson has issued a statement on the passing of the Bee Gees' Robin Gibb: "Robin was 'part of the family.' I love the Bee Gees' voices, they're some of my favorite singers. I am so sad to hear about his passing, my heart goes out to his family and fans." (5/21/12)

The Beach Boys 50th Anniversary Commemorative 'ZinePak was released May 1, 2012. This package includes an 11-track CD featuring the new version of "Do It Again," plus a 72-page magazine with rare photos and new interviews with Brian Wilson, Mike Love, Al Jardine, Bruce Johnston, and David Marks. The BB 'ZinePak will be sold only at WalMart. More.


In other publication news, the UK magazine Mojo's latest issue has a 22-page feature story on the BBs. (4/20/12)


Al Jardine's A Postcard from California (previously available only as a digital/burn on demand release) will finally be released in physical CD format on April 3, 2012, on Waterfront Entertainment/Robo Records. The CD will have three bonus tracks, including "Waves of Love" (with Carl Wilson vocals), "California Dreamin'" (featuring Glen Campbell, David Crosby, and John Stamos) and a remake of "Sloop John B" (based Al's book, Sloop John B: A Pirate's Tale). Postcard will be available from online retailers and in select record stores. For more info, go to Al's website.


Al Jardine & Friends will perform at the official release party for A Postcard From California, at the Roxy Theatre in West Hollywood, CA, on March 20, 2012. Prizes will be available, including signed CDs, t-shirts, and and everyone who attends will get a raffle ticket to win the grand prize, a Fender Stratocaster guitar. Tickets are available online and by calling the Roxy box office at 310-278-9457. Al will be making an in-store appearance at Fingerprints Music (420 E. 4th Street, Long Beach, CA 90802), on Record Store Day, April 21, at 2 p.m. (updated 4/2/12)

Billy Hinsche is now offering pre-orders for the revamped DVD release of his film, Know the Road (Redux) — Rock 'n' Roll Travel Tips, which features guest appearances by various members of the Beach Boys. Watch the preview here. (updated 3/30/12)


Andrew Doe, co-author of the 1997 book The Complete Guide to the Music of The Beach Boys (and the 2004 edition, Brian Wilson and The Beach Boys — The Complete Guide to Their Music) and BB liner notes, has created a comprehensive online Beach Boys discography and a historical timeline for the BBs, including an extensive examination of the band's beginning and year by year shows and sessions listings. (updated 5/31/12)

A new book, Fifty Sides of the Beach Boys: The Songs That Tell Their Story, by Mark Dillon, details the Beach Boys' story through the origins, production, and achievements of each of the 50 songs addressed by the text. Dillon, an entertainment journalist in Toronto, includes interviews and commentary about the BB's music from not only members of the group, like Brian Wilson and Mike Love, but also other prominent artists who claim the band as an influence. (updated 4/30/12)
Maintained by the webteam | Last updated February 15, 2017