Archives

(Note: These items are presented as is.
Some links are outdated and may not work any more.)

2017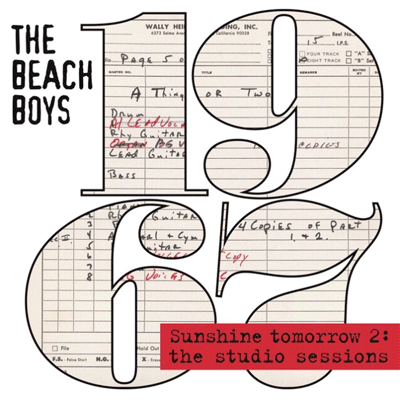 NEW 1967 BB DIGITAL RELEASE
Two new 1967-era Beach Boys collections has been released in digital format on Dec. 8, as companions to 1967 – Sunshine Tomorrow, released earlier this year. 1967 – Sunshine Tomorrow 2: The Studio Sessions includes more sessions from Smiley Smile, Wild Honey, and the abandoned Lei'd in Hawaii albums. 1967 – Live Sunshine contains live recordings from five 1967 concerts, for a total of 109 tracks. More details. (updated 12-8-17)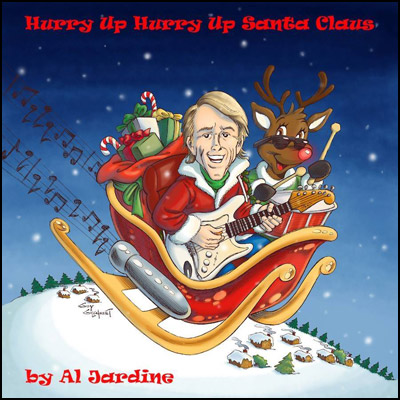 AL JARDINE UPDATE
Al Jardine will be heading out on the road for a series of acoustic, intimate shows titled "Al Jardine — A Postcard from California — from the Very First Song with a Founding Member of the Beach Boys." Al will be telling stories about the Beach Boys' music and singing, joined by his son Matt. More details.


Al has also reissued his 2015 Christmas song, "Hurry Up Hurry Up Santa Claus," now available in digital formats. More. (updated 11-17-17)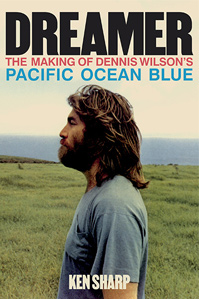 DENNIS WILSON POB BOOK
Ken Sharp's new book Dreamer: The Making of Dennis Wilson's Pacific Ocean Blue is now available for order. The 416-page book examines the backstory of DW's signature masterpiece. It is structured as an oral history, with interviews from many of the album's participants, fellow BBs, and family members. The book is available in soft-cover for $35 plus shipping, and in a very limited signed hardcover edition for $55 plus shipping. It's only available directly from Sharp, email him at to order your copy. More information. (updated 11-17-17)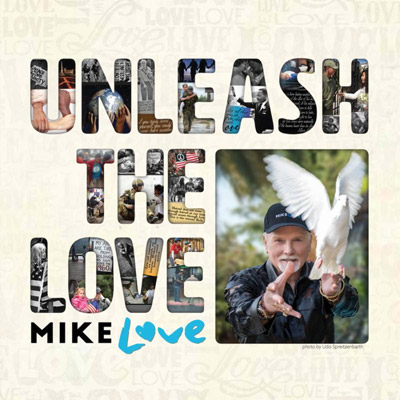 NEW MIKE LOVE SOLO ALBUM
Mike Love released a new double album on Nov. 17, 2017 through BMG. Unleash the Love features 13 brand new songs and 12 remakes of Beach Boys classics. The album is produced by Michael Lloyd. Listen to the title track off of the album here. Unleash the Love is available in CD, vinyl LP, and digital formats. More information. (updated 11-17-17)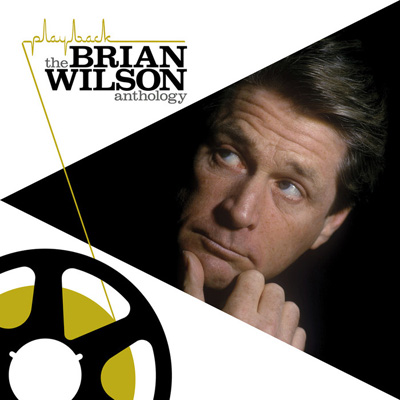 NEW BRIAN WILSON SOLO ANTHOLOGY
A new anthology of Brian Wilson's solo career, released on September 22, 2017, is available in multiple formats. Playback: The Brian Wilson Anthology contains tracks from Brian's solo albums, plus two previously unreleased songs, "Some Sweet Day" and "Run James Run." More information. (updated 9-22-17)

BRUCE JOHNSTON BACK ON TOUR FOLLOWING BRIEF HIATUS
Bruce Johnston posted the following on Mike Love's Facebook page on Sept. 13th: "Hey Boys & Girls, I am feeling a little under the weather, but I'll be back on the stage before you know it. See you soon, Bruce Johnston." Bruce has now recovered from his illness and returned to the tour. Welcome back, Bruce! (updated 9-27-17)

SAD NEWS
BBFC regrets to report passing of early BB supporting band member and Surf Punk Dennis Dragon on Sept. 26, 2017 and the passing of the Wilson brothers' cousin Barry Turnbull on Sept. 21, 2017. Barry was responsible for naming the Smiley Smile album. (updated 9-27-17)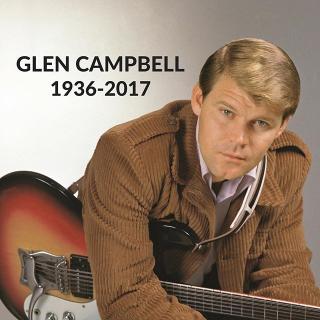 GLEN CAMPBELL, 1936-2017
The music world has lost country music star, ace guitarist and vocalist Glen Campbell, who succumbed to Alzheimer's disease on August 8, 2017 at the age of 81. Glen briefly replaced Brian Wilson for Beach Boys tours in 1964 and 1965. He left to pursue a highly successful solo career, paving the way for Bruce Johnston to join the BBs. As an in-demand guitarist and as one of the Wrecking Crew studio musicians, Glen played guitar on the Beach Boys Pet Sounds album, as well as some of the BBs' hits. He had many hits of his own, including "Wichita Lineman," "Rhinestone Cowboy," "Gentle on My Mind," "Galveston," and "By the Time I Get to Phoenix." He also recorded "Guess I'm Dumb," produced and written by Brian Wilson. Glen hosted his own TV show in the early '70s and was a multiple Grammy winner.


Read more, including the Beach Boys' comments on Glen Campbell, here. (updated 9-21-17)

ROGER WILLIAMS UNIVERSITY TO HONOR THE BEACH BOYS
On Thursday, September 21, 2017, The Beach Boys are being honored by Roger Williams University for a significant historic event in their career — the band's concert on September 22, 1971 at The Ramada Inn in Portsmouth, RI. The concert was the first-ever appearance of South African BBs Ricky Faatar and Blondie Chaplin in the band. On hand will be producer-engineer Rob Fraboni (who worked on the Holland album) as the guest of honor. Big Noise's Al Gomes and Connie Watrous are helping to produce the event for the university which will unveil plaques at the site of the 1971 concert, now the Baypoint Inn & Conference Center, host a special Beach Boys-themed dinner in the dining hall, and transform the outer reaches of the hall into a beach party for guests. (updated 9-21-17)

RHODE ISLAND STREET NAMED FOR THE BBS
On Wednesday, August 9, 2017, The Beach Boys are being honored for the 40th Anniversary of performing for the largest concert audience EVER assembled in the history of Rhode Island, a record that has never been broken. Over 40,000 fans gathered to watch their performance on September 2, 1977 at the Narragansett Park Race Track in Pawtucket, RI. The commemoration ceremony is being coordinated by music historians Al Gomes and Connie Watrous, and will include Grammy Award-winning BB producer Alan Boyd; Pawtucket, RI Mayor Donald Grebien; East Providence, RI Mayor James Briden; and representatives of Rhode Island Governor Gina Marie Raimondo and US Senator Jack Reed.


Beach Boys Mike Love and Bruce Johnston were presented the award before their show at Bold Point Park in East Providence, RI. Watch the ceremony video here. The city of Pawtucket also commemorated the location of the 1977 concert stage by renaming the street as "The Beach Boys Way." (updated 9-1-17)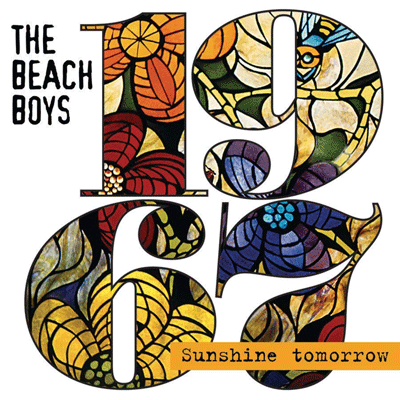 NEW ARCHIVAL BEACH BOYS RELEASE: 1967 – SUNSHINE TOMORROW
1967 - Sunshine Tomorrow is a new archival 2CD and digital collection from The Beach Boys, released worldwide on June 30 by Capitol/UMe. 1967-ST features producers Mark Linett and Alan Boyd's new, first-ever stereo mix of The Beach Boys' 1967 Wild Honey album and throws open the legendary band's vault to debut 54 sought-after 1967 rarities, 50 years after they were put to tape. Previously unreleased highlights on the new collection include The Beach Boys' shelved "live" album, Lei'd in Hawaii, studio recordings from the Wild Honey and Smiley Smile album sessions, and several standout concert recordings spanning 1967 to 1970. Wild Honey's new stereo mix will also debut in a 180-gram vinyl 50th anniversary edition on July 21. More information. (updated 6-30-17)

BBC RADIO REQUEST: "GOD ONLY KNOWS"
Nicola Humphries is producing a music documentary for BBC Radio which is dedicated to the song "God Only Knows." The program is part of the Soul Music series — as in music that touches the soul — and features interviews with people from around the world sharing their personal connections to a specific piece of music.


She says: "If you have a strong personal memory connected to this song we'd love to hear from you. Perhaps 'God Only Knows' reminds you of an important person or a special time in your life? If so, please get in touch via email including details about your special memory and your contact details as soon as possible before October 10th. We might not be able to include every story but we'll be in touch with you if we can include yours. Please email nicola.humphries@bbc.co.uk. I look forward to hearing from you." (updated 7-11-17)

SUMMER TOURS AND BEYOND
Brian Wilson has announced a Fall extension of his "Pet Sounds: The Final Performances" (of Pet Sounds in its entirety) tour with Al Jardine and Blondie Chaplin. Beach Boys Mike Love and Bruce Johnston have also announced their "Wild Honey World Tour" (in celebration of the 50th anniversary of the Wild Honey album), also extending into the Fall. (updated 5-11-17)


DENNIS WILSON'S BAMBU SESSIONS VINYL RSD RELEASE
Dennis Wilson's Bambu (The Caribou Sessions) is getting a vinyl release for Record Store Day on April 22, 2017. Recorded in 1978 and released on CD in 2008, the power and emotion of this unfinished followup to Pacific Ocean Blue can be heard on a newly-designed 2-LP set pressed on colored vinyl and featuring new liner notes by Ken Sharp. (updated 4-14-17)

BBs AND FAMILY GUESTING ON RECENT RECORDINGS
David Marks is a featured performer on Mod Hippie's psychotronic second album Big Wow. The CD is $13.99 (w/ shipping), from Karma Frog (www.karmafrog.com/store.html). Alan Jardine's sons, Matthew and Adam, are heard on a Timothy B. Schmit song called "The Island," a cut from his recent album Leap of Faith. Alan and Matt also sing background vocals on John Mayer's song "Emoji of a Wave," from The Search for Everything – Wave Two album. (updated 4-5-17)

NEW BB GRANDCHILD
Congratulations to the extended Wilson family on the birth of Wade Benjamin Wilson, born to Britta and Justyn Wilson on March 31, 2017. Wade is Beach Boy Carl Wilson and Annie Wilson-Karges' grandson. (updated 4-1-17)

SHOWTIME'S THE BEACH BOYS: MAKING PET SOUNDS DOCUMENTARY
Showtime subscribers will be able to watch a new documentary The Beach Boys: Making Pet Sounds. The film features interviews with Brian Wilson, Mike Love, Al Jardine, Bruce Johnston, and David Marks, and will explore "the story of the creation of the record that cemented The Beach Boys' reputation as a leading force to rival The Beatles." Watch the teaser trailer. (updated 3-30-17)

"AN EVENING WITH THE BEACH BOYS' MIKE LOVE"
On May 16, 2017, Mike Love will be making a special appearance in London, England to discuss his new autobio with The Times' rock and pop editor Ed Potton, for members of The London Times. More information here. (updated 4-9-17)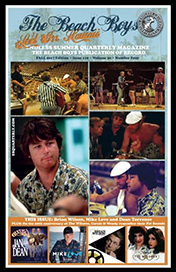 ENDLESS SUMMER QUARTERLY
The Fall 2017 edition of Endless Summer Quarterly (ESQ) is now available. ESQ continues the focus on events from 1967, with Peter Reum's article on The Beach Boys' trip to Honolulu, HI in late August 1967 and the aborted Lei'd In Hawaii album, as well as Ian Rusten's reflective evaluation of the group's touring dynamic during that time. Brian Wilson and Mike Love share comments on the trip to Hawaii. Dean Torrence's interview about Jan & Dean's original (long-lost) Filet of Soul album is included, as well as in-depth interviews with Carnie and Wendy Wilson on the 20th anniversary of The Wilsons album.


ESQ's Summer 2017 edition on The Beach Boys' Smiley Smile album features new interviews with Brian Wilson and Mike Love, as well as archival interview content from Al Jardine and engineer Steve Desper. Articles from Peter Reum, Malcolm C. Searles, and Craig Slowinski are also included.


Subscription rates are US $30 for 4 issues ($35 for Canada and Mexico; $40 throughout the rest of the world). U.S. funds only. Make checks payable to Endless Summer Quarterly. Send to ESQ at P.O. Box 470315, Charlotte, NC 28247. ESQ accepts Paypal payments; for more information, visit the ESQ website. For sample issue prices, please see ESQ's archive of back issues in pdf format. Note: Special editions and the current issue are not available as sample issues. (updated 9/22/17)

FREE TOUR E-BOOKLETS AVAILABLE
Download Endless Summer Quarterly's FREE 2014 tour program for Beach Boys Mike Love and Bruce Johnston's shows, complete with full color pictures. Also download ESQ's FREE 2014 tour program for Brian Wilson and Al Jardine's shows. Both books are in pdf format. (updated 12/2/14)
Maintained by the webteam | Last updated June 11, 2018