Archives

(Note: These items are presented as is.
Some links are outdated and may not work any more.)

2016


GRADUATION DAY 1966: LIVE AT THE UNIVERSITY OF MICHIGAN RELEASE
A new live Beach Boys recording, Graduation Day 1966: Live at the University of Michigan was released digitally on December 9, 2016. This album includes both shows from Oct. 22, 1966 in Ann Arbor, MI, featuring one of the first live performances of "Good Vibrations." (updated 12-9-16)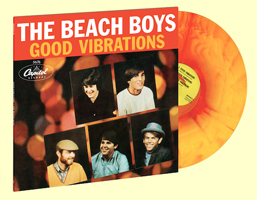 50TH ANNIVERSARY VINYL "GOOD VIBRATIONS" RELEASE
The Beach Boys and Capitol/UMe will release "Good Vibrations (50th Anniversary Edition)" on a 12-inch sunburst vinyl EP worldwide on October 7. The EP features the original 7" single version, an alternate studio take, an edit of the song with elements from various sessions, an instrumental, and a live version from a Honolulu rehearsal in August 1967, plus the single's B-side, "Let's Go Away For Awhile." A pull-out lithograph of the single's original Japanese cover art is included in the EP package, which features the original 1966 U.S. single cover art on its front. More information.


There is also a "Good Vibrations"-themed video-making contest for fans in North America and the U.K. For contest details, go to TheBeachBoys.com/goodvibrations. (updated 8-31-16)

MIKE LOVE BOOK TOUR
Mike Love is currently doing a book signing tour, to promote his new memoir, Good Vibrations: My Life as a Beach Boy. (updated 9-15-16)

SAD NEWS: RICCI MARTIN
Ricci Martin, son of Dean Martin and brother-in-law to Beach Boy Carl Wilson, has passed away at the age of 62. Ricci was the photographer for the cover of The Beach Boys' Sunflower ablum. Our condolences go out to Ricci's family and friends. More info. (updated 8-6-16)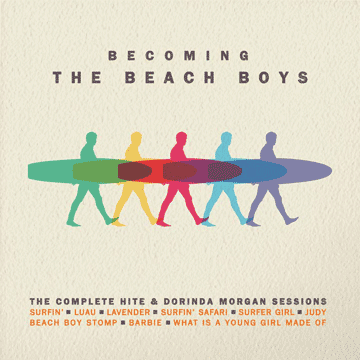 BECOMING THE BEACH BOYS ALBUM
Becoming The Beach Boys: The Complete Hite and Dorinda Morgan Sessions was released on August 26, 2016. This album includes the sessions for nine of the Beach Boys' earliest recordings as a group, 1961-62, before they signed with Capitol Records. The 2-CD set features demos, all available takes, studio banter, and master recordings, for a total of 63 tracks. Watch the trailer for the album here. (updated 8-31-16)

MIKE LOVE AND BRIAN WILSON AUTOBIOS DUE THIS FALL
Brian Wilson and Mike Love are both writing books about their lives, which will be published this fall.


Mike's book, Good Vibrations: My Life as a Beach Boy, co-written by James S. Hirsch, will be out on Sept. 13 from Penguin-Random House. Mike's book will be available in hardback, ebook, and audiobook (read by Mike) in CD and digital formats. Penguin is holding a sweepstakes to win a special VIP package to one of Beach Boys Mike and Bruce's shows — enter here! Mike will also be signing copies of his book at Book Soup, 8818 Sunset Boulevard, West Hollywood, CA 90069 on Saturday, September 17, 2016, starting at 4:00 p.m. A purchase of the book is required for signing. No memorabilia, but photos and personalizations are fine. More info.


Brian's book, titled I Am Brian Wilson: A Memoir and co-authored by Ben Greenman, will be out on Oct. 11 from Da Capo Press. Brian's book will be available in hardback, ebook, and audio formats. (updated 8/27/16)

BRIAN WILSON AND FRIENDS
Brian Wilson and Friends, the PBS Soundstage episode in support of Brian's No Pier Pressure album, is now available in wide release in both CD/DVD combo and Blu-Ray packages. Brian and friends (including Al Jardine, Blondie Chaplin, Ricky Fataar, Billy Hinsche, and many of the guest artists who appear on NPP) appear on this live performance from Dec. 12, 2014, at the Venetian in Las Vegas. (updated 8/1/16)

PET SOUNDS (50th ANNIVERSARY EDITION) BOX SET
The Beach Boys' Pet Sounds (50th Anniversary Edition) will be released worldwide on June 10 in several configurations, including a 4CD/Blu-Ray Audio collector's edition presented in a hardbound book. This will include the original album remastered in stereo and mono, plus various mixes, session outtakes, alternate takes, and previously unreleased live recordings. There will also be a 2CD and digital deluxe edition pairing the remastered album in stereo and mono, with highlights from the collectors edition's additional tracks, and remastered, 180-gram LP editions of the album in mono and stereo with faithfully replicated original artwork. More. (updated 3-28-16)

LIVE IN THE STUDIO "SLOOP JOHN B" VIDEO
Brian Wilson and Al Jardine have released a live in the studio video version of "Sloop John B" in celebration of Pet Sounds' 50th anniversary. It can be viewed on YouTube. (updated 6-7-16)

DC MEMORIAL DAY CONCERT ON PBS
Beach Boys Mike Love and Bruce Johnston will be headline performers for this year's Memorial Day concert on the lawn of the U.S. Capitol. This show may be viewed on the PBS website. (updated 6-5-16)

DAVID MARKS, BACK IN THE GARAGE
David Marks has released a new album, Back in the Garage, featuring the A-Phonics. The release includes new versions of surf classics, including Beach Boys instrumentals and Marksmen tunes. The limited-edition CD version has sold out, but the album is still available in download format. (updated 6-5-16)

TOURS ANNOUNCED FOR 2016
Brian Wilson is touring this year in celebration of the 50th anniversary of Pet Sounds' release. Al Jardine and Blondie Chaplin will join Brian on this tour. Brian says: "It's really been a trip to sit here and think about releasing Pet Sounds 50 years ago. I love performing this album with my band and look forward to playing it for fans all across the world." Brian says this will be his final tour of PS played in its entirety. Press release here.


Beach Boys Mike Love and Bruce Johnston are touring in celebration of the 50th anniversary of the release of "Good Vibrations." (updated 1-25-16)

GOLDEN GLOBES
Brian Wilson, Scott Bennett, and Paul Dano were nominated for Golden Globes for their work in Love and Mercy, but did not win. Brian and Scott were nominated in the Best Song category, for the song "One Kind of Love." Paul was nominated in the Best Supporting Actor Category. Congratulations to all — you'll always be winners to us! (updated 1-14-16)
Maintained by the webteam | Last updated June 15, 2020