In Memoriam: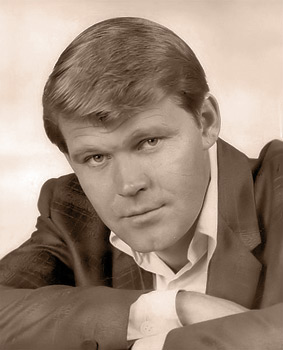 GLEN TRAVIS CAMPBELL

April 22, 1936 – August 8, 2017
The music world has lost country music star, ace guitarist and vocalist Glen Campbell, who succumbed to Alzheimer's disease on August 8, 2017 at the age of 81. Glen briefly replaced Brian Wilson for Beach Boys tours in 1964 and 1965. He left to pursue a highly successful solo career, paving the way for Bruce Johnston to join the BBs. As an in-demand guitarist and as one of the Wrecking Crew studio musicians, Glen played guitar on the Beach Boys Pet Sounds album, as well as some of the BBs' hits. He had many hits of his own, including "Wichita Lineman," "Rhinestone Cowboy," "Gentle on My Mind," "Galveston," and "By the Time I Get to Phoenix." He also recorded "Guess I'm Dumb," produced and written by Brian Wilson. Glen hosted his own TV show in the early '70s and was a multiple Grammy winner.
Brian Wilson on Glen Campbell: "I am very broken up to hear about my friend Glen Campbell. Glen was an incredible musician and an even better person. I'm at a loss. Love & Mercy to Glen's family and friends."
Alan Jardine on Glen Campbell: "Glen was a good friend and he was generous to a fault. We shared some good times together as fellow Beach Boys when he began his meteoric rise to stardom and continued to be friends. I send all my love to the family and especially Debbie for getting him to that studio that day [to sing on 'A Postcard from California']. He made everything sound better. He taught ME how to sing!"
Mike Love on Glen Campbell: "This morning brought very sad news of the passing of Glen Campbell. I was privileged to know Glen and to spend time with him in 1964 when Brian stopped touring with The Beach Boys and Glen took his place. It was an exciting time back then on tour with screaming girls and good looking Glen bore the brunt of it, losing a watch and getting his shirt ripped by more than enthusiastic fans. I've never met a more talented person in all the years we have been in the music business and never had a better time on tour than the time spent with Glen. His sense of humor was incredible and we never laughed so much as when he was with us. Glen was with us for only a few months before he moved on with his career and what a phenomenal one it was! In later years, it was fun to drop in and visit him. Often in his shows he would do a Beach Boys medley. Our paths crossed countless times on the road including a Super Bowl performance together in San Diego many years ago. No matter when or where we were Glen, or the oldest living teenager as he referred to himself, was always witty, down to earth and just a whole lotta fun to be with. We last saw Glen in person backstage at the Grammys in 2012, highlighted by a tribute to Glen. We took a photo together and though he had been diagnosed with the disease that ultimately ended his life, he was kind and friendly which was his nature. We lost a friend this morning, and the world lost an enormously talented person in Glen Campbell. We are blessed to have known him and the world is blessed to have his musical legacy that will forever be part of America's best music. He joins a growing list of legends that have left us with their musical gifts and Glen Campbell is one of the brightest stars in the musical firmament. As he said 'I am just a country boy with guitar' — we say no, you are our country's hero with a guitar! We love you Glen.

Peace Brother, Mike Love."
Links:

Donations — As per the family's request, donations in Glen's memory for Alzheimer's research may be given to the Glen Campbell Memorial Fund at BrightFocus Foundation through the donation page at Careliving.org.

Maintained by the webteam • Last updated August 10, 2017