In the Studio
---
Liner Notes Archive

Phil Galdston's liner notes for Beckley Lamm Wilson's Like a Brother

A full listing of Brad Elliott's Beach Boys' and related liner notes online:
---
Carl Wilson Remembered
LIKE A BROTHER BY BECKLEY-LAMM-WILSON



Photo courtesy Henry Diltz.


(l to r) Carl Wilson, Gerry Beckley, and Robert Lamm during the BLW sessions.

Like a Brother, the long-awaited Gerry Beckley/Robert Lamm/Carl Wilson album on the Transparent Music label is now available in stores. Tracks include Carl's "I Wish for You," "Run Don't Walk," "They're Only Words," and the title tune (written for brother Brian.) Carl is also featured lead vocalist on "Today." A press kit, audio clips for the whole album, release details, and purchasing info are available at the America Fans home page.
The CD is being re-released in a Digipak format, with all the tunes from the Japanese version included. Robert Lamm has graciously offered to share producer Phil Galdston's in-depth liner notes of the history of the recording of Like A Brother. The album will be available through Robert Lamm's website (Flash plug-in and larger monitor required to access this site) and CDBaby.com. (updated 7-25-04)
LONG PROMISED ROAD: CARL WILSON LIMITED-EDITION CD
The special Carl Wilson promotional CD Long Promised Road is now available again. Through a special arrangement with the Central L.A. Unit of the American Cancer Society, Surf's Up Collectibles is offering copies of Long Promised Road for only $50, plus shipping! And the majority of the proceeds from each sale goes to the ACS.


The CD contains Carl's work as a solo artist (in better sound quality than the long-unavailable Japanese CD issues of his solo albums) and those contributions he made to the Beach Boys. The tracks on the CD are: "Long Promised Road," "Feel Flows," "The Trader," "Full Sail," "Goin' South," "Keepin' the Summer Alive," "Livin' with a Heartache," "Hold Me," "Hurry Love," "Heaven," "What More Can I Say," "Givin' You Up," "One More Night Alone," "Rockin' All Over the World," "What You Do to Me," "Of the Times," "It's Gettin' Late," "Maybe I Don't Know," and "Where I Belong."


Copies can be ordered online with a credit card or by mail order. Complete information, including shipping costs to anywhere in the world, can be found at Surf's Up Collectibles. Supplies are limited. When these last copies are sold, there will be no more available! (updated 12-23-01)
BBBRITAIN CARL TRIBUTE CONCERT CD
Beach Boys Britain has announced the release of their Carl Wilson Tribute Concert CD, a recording of highlights of performances by fans from last December's Carl Wilson Charity Tribute Concert in London. All profits go to benefit Imperial Cancer Research. To order, send a check made payable to Beach Boys Britain for £10 (plus £1 postage UK, £2 elsewhere, UK funds only) to: Carl Wilson Tribute CD, c/o Alan Poole, Flat 2, 26 Barton Road, Hereford, HR4 0AY, England. All overseas orders will be sent by airmail. (6-2-99)
---
More Tributes and Dedications

Michael Angeloff's CD, Here And Now.... Is Forever, available from his website, features one of Carl Wilson's last recording performances. Michael will be making a donation from each CD sale to The Carl Wilson Foundation. (4-5-00)

Former BBFC rep John Hunter Phillips has released a new CD, Diamonds on the Beach, "devoted to the songs of the Beach Boys, Brian Wilson and Carl Wilson." Billy Hinsche, who wrote the liner notes, performs a duet with John on "One More Night Alone." A portion of the proceeds from this endeavor ($1.00 per CD) will go to The Carl Wilson Foundation. (1-14-00)

The Pet Sounds Mailing List (an email list for Beach Boys fans) has put together a various artists' CD of original songs inspired by the BBs called PSML Loves You. (2-24-00)

It's Only Roy (formerly Grown Men) have released an eponymous full-length CD featuring "Gentle Soul," a song written about and dedicated to Carl Wilson. A portion of the proceeds will go to The Carl Wilson Foundation. The CD costs $12.99, plus S/H, and is available from their website, which also features sound clips, photos, and a message board. Contact Rick Bell for more information. (3-30-00)

Tom Petty and the Heartbreakers' 1999 release Echo has a song, "Room at the Top," in tribute to Carl.

America's album Human Nature features a track called "Hidden Talent" with Carl Wilson and Robert Lamm (of Chicago) on background vocals. The album is also dedicated to Carl.

Longtime BB friend Christopher Cross has dedicated his album Walking in Avalon and a live cut on the recording ("Think of Laura") to the memory of Carl Wilson, saying that Carl was a great friend and the biggest influence on his singing. (4-16-98)
---
Video Notes

NEW MUSIC VIDEO SERIES FOR CLASSIC BB SONGS
The Beach Boys present a four-part video series featuring some of their iconic songs — "Barbara Ann," "Don't Worry Baby," "Wouldn't It Be Nice," "God Only Knows" — set to a captivating, time-honored story. Each chapter builds on itself to become one long narrative. "Barbara Ann" premiered Sept. 9, 2022 at the Beach Boys official YouTube channel; the series will play out over back-to-back weekends. Press release. (updated 9-9-22)

TWO LANE BLACKTOP RELEASE ON DVD/BLURAY
Two Lane Blacktop, the 1971 cross-country road race cult film, starring Dennis Wilson, James Taylor, and others is getting the deluxe reissue treatment from Criterion on both DVD and BluRay. More info on the release is available on Crierion's website. Two Lane Blacktop was also honored by being named one of the 25 movies added to the U.S. National Film Registry in 2012. (updated 1-8-13)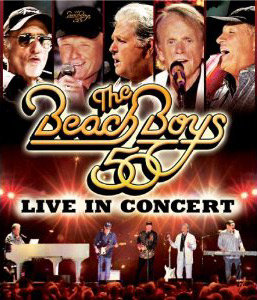 NEW RELEASES FOR 2012
The Beach Boys' Live in Concert: 50th Anniversary, featuring footage from their Phoenix, AZ concert, was released on DVD and Blu-Ray in Nov. 2012. Billy Hinsche's Home Movies was released in December 2012, featuring previously unseen footage and photos from the Hinsche and Carl Wilson families, including the Wilson brothers and other Beach Boys. (updated 12-2-12)

BB REUNION ON PBS' FRONT ROW CENTER: The Beach Boys made an appearance on the PBS music series Front Row Center. This 1-hour episode features footage from the BB's May 2nd concert in St. Augustine, FL, with a look back at their career, never-before-seen archival concert footage, and songs from their new album, That's Why God Made the Radio. The episode, Doin' It Again, was released on DVD and Blu-Ray on August 28, 2012. (updated 8-29-12)

BILLY HINSCHE'S BB VIDEOS: Billy Hinsche has made a number of videos using his own personal of footage, taken on the road with the Beach Boys and home movies. BB-related titles include 1974 — On the Road with The Beach Boys, 24 Hours, Dennis Wilson Forever, Carl Wilson — Here and Now, and Know the Road (Redux) — Rock 'n' Roll Travel Tips. For more information, go to Billy's website. (updated 11-29-12)

A biopic of Dennis Wilson's later years, tentatively titled The Drummer, has lost its lead actor and executive producer. Aaron Eckhart, who had been signed to portray DW, recently bowed out of the project. Vera Farmiga is set to play Christine McVie (Fleetwood Mac), Rupert Grint as Stan Shapiro, and Chloe Moretz as Jennifer Wilson. The filming start date is now undetermined. Dennis' son Carl B. Wilson and daughter Jennifer will serve as co-producers on the film. Music from Dennis' Pacific Ocean Blue, as well as previously unreleased Dennis Wilson and Beach Boys music will be featured in the soundtrack.


In other movie news, a script for a Brian Wilson biopic has been completed. Yet another film project, a fictional story based on The Beach Boys' music, is also in the works. (updated 6-21-12)

Billy Hinsche brings us a second BB-themed documentary this year! 24 Hours is a fun look at the BB's 1991 tour (as they travel to 5 cities in one 24-hour period). The single-disc DVD is now available at www.billyhinsche.com. See the trailer here on YouTube. (updated 8-9-11)

Billy Hinsche's documentary on Carl Wilson is now available. Carl Wilson — Here and Now is a 2-disc DVD package and is now available from www.billyhinsche.com. See the trailers here and here on YouTube.


Billy is also teaching guitar classes online via SKYPE. For more details, go to his website. (updated 6-5-11)

Al Jardine has a whale-watching video available for viewing here. (2/8/11)

A 2-disc expanded version of Billy Hinsche's DVD, 1974 — On the Road with The Beach Boys (Director's Cut), with additional archival video, vintage film, personal photos, and special guest appearances, is now available from his website. Filmed during April and May, 1974, this DVD offers an unique, first-hand look at the BB's life on the road. 1974 is $35, plus shipping. (updated 12-18-10)

Brian Wilson: Songwriter 1962-1969 is a new documentary film investigating Brian's work as a composer, primarily with The Beach Boys. Bruce Johnston, David Marks, Billy Hinsche, Danny Hutton, Carol Kaye, and Hal Blaine appear, along with others. The documentary is currently set for release on DVD on November 23, 2010. (10-5-10)

A new film project, based on The Beach Boys' music, is in the works. John Stamos (Glee) is co-producer. (10-5-10)

The T.A.M.I. Show, a 1964 concert film featuring The Beach Boys, James Brown, the Rolling Stones, and more, and hosted by Jan & Dean was unavailable in its entirety for decades. Shot live in L.A. before an ecstatic audience, the T.A.M.I. Show: Collector's Edition has been fully restored and released on DVD by Shout! Factory. On sale now at brick-and-mortar and online retailers. (updated 3-21-10)

A new 60-minute documentary film on the life of Dennis Wilson has been created for the BBC4 Legends series and will premiere in the UK on Friday, February 26, 2010 at 9 p.m. The documentary features previously unseen footage and rare archival materials. New interview segments with David Marks, Al Jardine, Blondie Chaplin, Michael Wilson, Carl B. Wilson, Gregg Jakobson, Ed Roach, John Hanlon, Jeffrey Foskett, Tom Murphy, Ron Swallow, Jo Ann Marks, Taylor Hawkins, Mike Kowalski, Jon Stebbins (also a co-producer), and others give the film a fresh perspective on Dennis' life and legacy. Watch it online here. (updated 1-13-10)

The documentary Beautiful Dreamer: Brian Wilson and the Story of Smile follows the history of Smile as a composition and includes interviews with Brian, Van Dyke Parks, Carol Kaye, and Hal Blaine, as well as footage from one of 2004's London Smile concerts. The show is being released on DVD along with a live performance of Brian Wilson Presents Smile in May, 2005. (updated 3-10-05)

Bruce Johnston's 1975 solo UK TV performance of "Disney Girls" is included on the The Old Grey Whistle Test 2 DVD. (10-14-03)

Two Brian Wilson DVD/VHS videos, Pet Sounds Live and Brian Wilson on Tour, are available. More details and track listings can be found on Brian's website. (updated 6-8-03)

A combined DVD of The Beach Boys: An American Band (full-length version) and the Brian Wilson documentary, I Just Wasn't Made for These Times has been released for home video. (updated 2-17-03)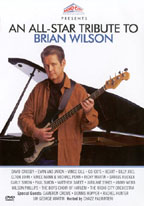 Brian Wilson is the subject of a TNT star-studded tribute held on March 29, 2001 at Radio City Music Hall in NYC. The show was taped for television and is now coming out on home video. Release date for An All-Star Tribute to Brian Wilson is currently set for Nov. 6 in the U.S. and Nov. 5 in the U.K (Aviva International and Direct Video Distribution). DVD and VHS formats will be available in both countries.


Hosted by actor Chazz Palminteri, the guest roster also included Cameron Crowe, Evan and Jaron, the Go Go's, Sir Elton John, the Harlem Boys Choir, Heart, Dennis Hopper, Rachel Hunter, Billy Joel, Aimee Mann & Michael Penn, Ricky Martin, Sir George Martin, Phil Ramone, Darius Rucker, Paul Simon, Matthew Sweet, Jimmy Webb, Justyn Wilson, Wilson Phillips, Vince Gill, and David Crosby. Brian performed Pet Sounds with his current touring band and various vocalists.


The DVD is presented in DTS, Dolby Digital Surround Sound and Dolby Digital stereo. DVD extras include a bonus track "Do It Again" performed by Brian and nephew Justyn Wilson, interviews, and a photo gallery.
Track Listing
Our Prayer — The Boys Choir of Harlem
California Girls — Ricky Martin
Help Me Rhonda — Ricky Martin
Surfer Girl — Paul Simon
In My Room — David Crosby, Carly Simon, Jimmy Webb
The Warmth of the Sun — Vince Gill
I Get Around — Evan and Jaron
God Only Knows — Elton John
I Just Wasn't Made For These Times — Aimee Mann, Michael Penn
Don't Worry Baby — Billy Joel
Sail On Sailor — Darius Rucker, Matthew Sweet
You're So Good to Me — Wilson Phillips
Good Vibrations — Heart, Jubilant Sykes, The Boys Choir of Harlem
Surf's Up — David Crosby, Vince Gill, Jimmy Webb
Heroes and Villains — Brian Wilson
Wouldn't It Be Nice — Elton John, Brian Wilson
Fun, Fun, Fun — Brian Wilson, All Star Ensemble
Barbara Ann — Brian Wilson, All Star Ensemble
Love and Mercy — Brian Wilson, The Boys Choir of Harlem
(updated 10-29-01)

Capitol has officially announced the U.S. video release for Endless Harmony on March 14, 2000. The video will contain material that did not appear in the televised version, plus bonus clips. VHS and DVD. (1-10-00)

Cable channel American Movie Classics (AMC) is airing a month-long BB festival in March. Endless Harmony will be shown on in two parts on March 18 and 25 respectively. A different Beach Boys American Pop segment will run each Saturday night in March, 10 pm.-midnight. The Lost Beach Boys Concert and other appearances by the group will be included. (2-5-00)

ABC's four-hour television miniseries, The Beach Boys: An American Family, will air in two parts on Sunday and Monday, Feb. 27 and 28 (9-11 p.m. ET, both nights). ABC now has a website for the show, with photos and a trivia quiz. The Rick on TV site also has photos from the miniseries.


Produced by John Stamos, the series focuses on The Beach Boys' early days and their relationship with Murry Wilson. Portraying the Wilson brothers: Frederick Weller as Brian, Nick Stabile as Dennis, and Ryan Northcott as Carl. Other castings include Matt Letscher (Mask of Zorro) as Mike Love, Ned Vaughn as Alan Jardine, Jesse Caron as Bruce Johnston, Dublin James as Dave Marks, Kevin Dunn as Murry Wilson, Alley Mills (The Wonder Years) as Audree Wilson, and Amy Van Horne as Marilyn Wilson. [Note: This program is available on DVD. Viewer beware — inaccuracies abound, especially in part 2, and the fake facial hair is hilarious.] (2-12-00)

The A&E Network is reairing its BIOGRAPHY: Brian Wilson: A Beach Boy's Tale on February 20 & 21, 2000. A home video version is available from A&E's website. (1-26-00)

The full-length version of Brian's St. Charles, IL Imagination performance from last year, featuring Bruce Johnston and others on backing vocals, is now available on home video.

Two Lane Blacktop, the cult film classic starring Dennis Wilson and James Taylor, has also been released on home video. (11-99)

The Lost Beach Boys Concert, a closed-circuit live performance from 1964, shown recently on the AMC channel, is being prepared for release on home video in VHS and DVD formats. It is available from Music Video Distributors for $9.98. Call 1-800-84-MUSIC, ext. 231 or visit MVD's website for ordering details. (10-99)
Maintained by the webteam | Last updated September 9, 2022