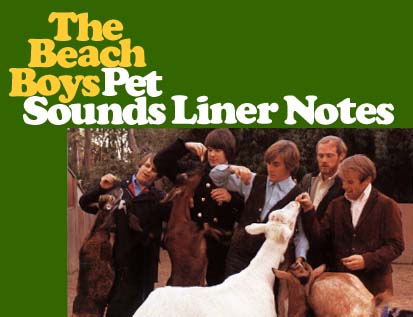 In December 1964, The Beach Boys were riding high in the music world. It had been a spectacular year for them. They had placed four singles in the Top 10, one album in the Top 20, another in the Top 10 and currently had the Number One album in the country — Beach Boys Concert.
For The Beach Boys — brothers Brian, Dennis and Carl Wilson; cousin Mike Love; and friend Alan Jardine, all of suburban Hawthorne, California — life should have been sweet indeed. But underneath the success, there were real problems. The group had fired the Wilsons' domineering father, Murry, as their manager back in April. While that removed a major source of emotional stress from their lives, it also meant that other pressures came to rest even heavier on Brian, the group's principal songwriter and producer of their records.
Brian did not respond well to the added pressure. He began to withdraw, spending more and more time alone. He complained of stomachaches, headaches and fatigue. In November, after boarding a flight to Australia for a concert tour, Brian had experienced a panic attack.
On Dec. 7, Brian married 16-year-old Marilyn Rovell. Then, just a few short weeks into life as a newlywed, only days before Christmas, Brian had to leave for a three-week tour with The Beach Boys.
"We were on tour December 23rd," Brian described several years later. "The plane had been in the air only five minutes. I told Al Jardine that I was going to crack up any minute. He told me to cool it. Then I started crying. I put a pillow over my face and began screaming and yelling... I just let myself go completely... I was coming apart. The rubber band had stretched as far as it would go."
1964 ended with only four Beach Boys on the road, as the rest of the group finished the tour without Brian.
At home, with the other Beach Boys away, without the demands of traveling from city to city day after day, Brian could concentrate his energies on the creation of music. His first task was to finish another album for Capitol.
The sessions for what would be released in March 1965 as The Beach Boys Today! had begun in the summer. In the can were more than a half dozen tracks, but it was a long way from a completed album. With the Beach Boys on the road, Brian enlisted the cream of Los Angeles' studio musicians as his regular band and cut a series of adventurously orchestrated tracks in the first two weeks of 1965. The tracks not only completed the Today album, but effectively foreshadowed the instrumental approach that would blossom to full flower a year later. The tracks were more structurally complex than any of Brian's previous efforts.

When the group came off the road mid-month, Brian brought them into the studio to add vocals. Then he dropped a bombshell. He no longer wanted to tour; he wanted to devote himself totally to making records. "I told them I foresee a beautiful future for the Beach Boys group," Brian recalled, "but the only way we could achieve it was if they did their job and I did mine. They would have to get a replacement for me."
It was not a decision that came lightly to Brian or that was readily accepted by the others, but Brian stood his ground. "I felt I had no choice. I was run down mentally and emotionally because I was running around, jumping on jets, one-night stands, also producing, writing, arranging, singing, planning, teaching."
Brian wouldn't tour regularly with the group again until 1976. Replaced on the road first by session guitarist Glen Campbell (several years away from his successful solo career) and then songwriter/producer Bruce Johnston, Brian finally had all the creative time he needed.
In March, The Beach Boys Today! was released. In sequencing the album, Brian made a distinction between the group's hit sounds and the more introspective material to which his muse was drawing him. On the first side of the album, he placed all of the upbeat songs. On side two, he placed a group of slower, softer songs that echoed his thoughts and feelings, forming almost a suite of orchestrated, mature emotional music. That concept was one he would return to in earnest a year later.
In the spring of 1965, Brian and his coterie of session players were again hard at work on The Beach Boys' next album, to be released in July as Summer Days (And Summer Nights!!). More of a mixed bag than Today, Summer Days nevertheless featured several songs in which Brian further developed a mature expression of his concerns. Lyrically, both Let Him Run Wild and You're So Good To Me were portents of songs he would create over the next year, while Summer Means New Love was an orchestrated, almost symphonic instrumental, a major step forward from the surf guitar numbers he'd included on previous albums.
Following the release of Summer Days, however, Brian seemed to be foundering, in search of a creative direction. In early July, following up on a suggestion made by Alan Jardine, Brian cut a track on the West Indies folk song, The John B. Sails, a.k.a. Sloop John B. "I thought it would be a great song for us to do," Alan recalled. "Brian was at the piano. I asked him if I could sit down and show him something. He wasn't into folk music, so what I did was to play it for him in the Beach Boys idiom. I figured if I gave it to him in the right light, he might end up believing in it. I put some minor changes in there, and it stretched out the possibilities from a vocal point of view."
To Jardine's surprise, Brian had paid attention. On July 12, Brian cut a track for the song with his regular crew of session musicians. "I got a phone call to come down to the studio," Alan remembered. "Brian played the song for me, and I was blown away... I played some chords, he came back and arranged an entire symphony around it." But after laying down a rough lead vocal for the song, Brian put it aside unfinished.

The summer passed without any other ventures into the recording studio. By the end of the summer, Capitol Records was asking Brian for an album for the coming Christmas buying season. But Brian was at a loss for new material. Then he hit on the idea of doing a live album in the studio — not with the group standing in front of microphones running through their repertoire of hits, but something a bit different ... a "party" album, where it would appear that the group and their friends were sitting around with guitars and sodas and chips and singing their favorite oldies. It was a seemingly ideal solution — it could be done quickly, and Brian didn't have to worry about writing new songs and crafting arrangements for them.
In September, over the course of five sessions at Western Recorders, The Beach Boys (supplemented only by session drummer Hal Blaine on bongos and percussion) ran through several hours of informal performances, touching on more than two dozen songs. After overdubbing party noises on the 13 tracks selected for inclusion, Beach Boys' Party! was turned in to Capitol and set for release the second week of November.
With that monkey off his back, Brian finally seemed to break his creative block. On Oct. 13, he cut the track for a new single, The Little Girl I Once Knew, then called The Beach Boys in to do vocals a week-and-half later. An excellent pop/rock production, the song was characterized by a radical stop-and-go arrangement that brought the melody and rhythm to a halt twice in the song.
Despite the song's obvious noncommercial aspects, it headed up the charts promptly upon its release in mid-November. Then, unexpectedly, Capitol rush-released the infectious Barbara Ann, from the Party album, as a single. Disc jockeys all across the country had been playing the song off the album. Capitol could smell a monster hit and moved to strike immediately, instead of waiting for The Little Girl I Once Knew to ascend to the top and then begin its descent down the charts. With the release of Barbara Ann, the upward motion of The Little Girl I Once Knew was halted, and the record topped out at #20. Barbara Ann, in the meantime, began a climb to the #2 spot.
But all of that was still a couple of months away. On Nov. 1, Brian was back at his favorite studio, Western Recorders, for a full day of recording. He laid down instrumental tracks for a song that looked back on the simpler times of his youth, In My Childhood, and for an untitled number that would be dubbed Trombone Dixie for its heavy use of horns.
But Brian's muse proved fleeting and he soon was stretching for inspiration. On Nov. 18, he cut an instrumental he initially called Run James Run, intending it for possible use in a James Bond movie.
Finally, in December, Brian found his inspiration. He heard the new Beatles album, Rubber Soul, and reacted as never before. "When I first heard it, I flipped," Brian recalled. "I said, 'I want to make an album like that.'" What he heard was, as he described it, "a whole album with all good stuff."
"I really wasn't quite ready for the unity," he explained. "It felt like it all belonged together. Rubber Soul was a collection of songs ... that somehow went together like no album ever made before, and I was very impressed. I said, 'That's it. I really am challenged to do a great album.'"
Brian returned first to the track that he had left waiting since July — Sloop John B. He cut the group's vocal on Dec. 22, then returned to the studio alone on Dec. 29, recording a new lead vocal with revised lyrics, losing much of the Caribbean patois that had characterized the song in its previous folk incarnation.

With his creative juices flowing, Brian began looking for the last piece of the puzzle — a collaborator. "He doesn't really like to work alone, as far as writing," explained Marilyn. "It wasn't fun working by yourself."
At the time, Tony Asher was working for an advertising agency in Los Angeles, writing commercial jingles. His path had crossed Brian's several months earlier in one of Hollywood's many recording studios.
"I ran into Brian at a session I was doing for a commercial jingle in connection with my advertising job," Asher recalled. "Brian was doing some demos of something or other. We ran into each other in the hall. We started chatting, and he asked me to take a listen to what he had been doing. He then went into the studio to play something for me on the piano. I played a couple of things for him, and that was pretty much it. Frankly, I never expected to hear from him again.
"A few weeks later, I got a phone call, and Brian said, 'Listen, I have an album that is overdue. Would you ... want to help me write it?' I thought it was somebody in the office playing a joke on me. I said, 'You gotta be kidding.'" And then pretty quickly I was convinced it was him.
"It was such an absurd notion. He didn't really know anything about my writing abilities except that we had exchanged some ideas on songs when I was in the studio with him. Apparently, he had some input from some mutual friends about my abilities as a 'wordsmith,' as a copywriter and as a lyricist. But for me, it seemed like it was out of the blue and it was just quite hard to imagine."
Asher took an unpaid leave of absence from his job, and he and Brian began writing early in January 1966.
"We started work within a week or ten days of the phone call from Brian," he remembered, "and worked off and on for quite a few weeks straight. I think my original 'leave of absence' from work was supposed to be two to three weeks.
"When I first went to his house, we spent a little time just talking. [Then] he played me some of the tracks that they'd recorded. There were a number of tracks, some of which had had lyrics written to them and indeed vocals recorded to them, but which for one reason or another didn't meet with Brian's expectations. One of the things we listened to, for example, was Sloop John B, which was completed... There was also You Still Believe In Me; I believe it was called In My Childhood at the time, [but] Brian never let me hear the lyric to it."
Brian gave Asher a cassette of In My Childhood to work on initially. "That was a good way to start things off," Asher said. "It's a great luxury — at least for a lyricist — to write to tracks because you have a much better sense of what the musical mood of the song it. And here was a case where it was real clear what Brian had in mind."
After Asher completed lyrics for the track, he and Brian turned their attention to a group of new songs that Brian was composing.
"In most cases, Brian was just playing riffs on the piano, ideas that were anywhere from tiny fragments of a song to completed melodies," Asher explained. "When I heard one that seemed to lend itself to an idea, I would throw out a lyric idea. Not a lyric, you understand. An idea for the direction a lyric might take... In a couple of cases, Brian had an idea for a partial lyric or for the lyric to what would be called 'the hook' of the song."

By the end of a typical songwriting session, Brian and Asher would have "a pretty complete melody, partial lyrics and a kind of bridge, and some other stuff," Asher recalled. "I'd go home at night and work on the lyrics a little bit and bring them back the next day.
"Brian didn't really write lyrics to the songs; he edited them. That means he might have simply said that he didn't like a particular line. I would then have tried to convince him of its merit, if I felt strongly about it, or I would have written an alternate in an attempt to get closer to what he seemed to be after. None of this is to say that he didn't supply words to some of the songs. He did. But his role was more to react to what I did after I did it, rather than to direct it before it occurred or even as it was occurring."
"It's fair to say that the general tenor of the lyrics was always his," Asher summarized, "and the actual choice of words was usually mine. I was really just his interpreter."
Brian recognized that the songs he and Asher were composing were different from anything previously associated with The Beach Boys. Asher recalled, "At the end of singing through one of the songs, he said, 'Boy, people are going to know that this is a Tony Asher lyric,' And I said, 'What do you mean?' He said, 'It's just not like anything that we've done before.'"
Brian soon headed to the studio to cut tracks for the new songs. Working at Western Recorders with his favorite engineer, Chuck Britz, he laid down tracks for half a dozen new songs in January and early February.
And then The Beach Boys came home from a three-week tour of Japan and Hawaii. What they found, though, was quite unexpected.
"We came back, and there was Pet Sounds sitting there for us to do," Alan recalled. "There was this masterpiece sitting there, kind of an uncut gem. And we're going, 'Wow, hmm, what's up, Brian?' 'Oh, I got this little esoteric piece of work I want you to hear.' Really, it was a whole new horizon for us. We were a surfing group when we left the country, and now basically we came back to this new music. And it took some getting used to."
"The group was less than enthusiastic about the material," reported Asher. "[The Beach Boys] were hoping and expecting more of what had been hits for them all along... They had just returned from a very successful tour. So they didn't see the wisdom in changing the 'formula.'"
"With Pet Sounds, there was resistance," Brian explained. "There was a little bit of intergroup struggle. It was resolved in that they figured it was a showcase for Brian Wilson, but it [still] was The Beach Boys. In other words, they gave in."

With the group on board, there were a lot of details to be attended to — cover art, title, track lineup, etc.
On the morning of Feb. 15, the group assembled in the Petting Zoo at the San Diego Zoo for the cover photo session. The photos of The Beach Boys feeding an assortment of goats was a play on the album's chosen title, Pet Sounds. The title came from the idea that the sounds heard on the album were Brian's "pet," or favorite, sounds.
Exactly who came up with the idea for the title is disputed. Brian has credited Carl. Carl, on the other hand, thought it was Brian: "The idea he had was that everybody has these sounds that they love, and this was a collection of [his] 'pet sounds.' It was hard to think of a name for the album, because you sure couldn't call it Shut Down Vol. 3."
Mike also has laid claim to coming up with the title. "We were standing in the hallway in one of the recording studios, either Western or Columbia, and we didn't have a title," he recounted. "We had taken pictures at the zoo and ... there were animal sounds on the record, and we were thinking, well, it's our favorite music of that time, so [I said], 'Why don't we call it Pet Sounds.'"
Two days after the photo shoot, Brian was back in the studio with his usual assemblage of session musicians working on a track for the latest Wilson-Asher composition, Good Vibrations.
Already, a definite conception of the Pet Sounds album was forming in Brian's mind. Around Feb. 23, he provided Capitol a list of 10 tracks that would form the core of the album — Wouldn't It Be Nice, Caroline No, Good Vibrations, You Still Believe In Me, That's Not Me, Hang On To Your Ego, Sloop John B, The Old Man And The Baby, Don't Talk (Put Your Head On My Shoulder) and I Just Wasn't Made For These Times. He indicated two more selections would be added to the album — one an instrumental, the other an as-yet-untitled vocal track.
The inclusion of Sloop John B in the early track listing is significant because it has long been rumored that Brian was forced, against his wishes, to include the song — a #3 hit — on the album. But in late February, Sloop John B was still a month away from release as a single. Neither Capitol nor Brian could have had any idea how successful it might be. The track listing proves the inclusion of Sloop John B on Pet Sounds was strictly Brian's choice.
In the weeks that followed, Brian continued to fine tune the album. Good Vibrations was dropped from consideration. Hang On To Your Ego became I Know There's An Answer. The Old Man And The Baby was retitled Let's Go Away For Awhile.
The decision to withhold Good Vibrations from the album was a surprise to The Beach Boys. "At the time, we all had assumed that Good Vibrations was going to be on the album, but Brian decided to hold it out," recalled Alan. "It was a judgment call on his part; we felt otherwise but left the ultimate decision up to him."
Simply put, Brian wanted to lavish more attention on the song. After Pet Sounds was finished, he would focus his full attention on it, eventually spending six months preparing it for release as a single.
With most of the necessary instrumental tracks recorded for Pet Sounds, the month of March and the first half of April 1966 were devoted primarily to vocals. A few more songs were tracked — I'm Waiting For The Day, God Only Knows and Here Today — but the emphasis was on getting the vocals recorded.
"We really worked our buns off on those," declared Mike. "We worked and worked on the harmonies and, if there was the slightest little hint of a sharp or a flat, it wouldn't go on. We would do it over again until it was right. [Brian] was going for every subtle nuance that you could conceivably think of. Every voice had to be right, every voice and its resonance and tonality had to be right. The timing had to be right. The timbre of the voices just had to be correct, according to how he felt. And then he might, the next day, completely throw that out and we might have to do it over again."
"We spent so much time perfecting the vocals," admitted Alan, "that I think I got turned off of the album, just by the sheer volume of work we did on it."

The album was completed in mid-April and submitted to Capitol shortly thereafter. Brian was immensely pleased with the end result. "I was very proud of that album," he declared. "The reason we made Pet Sounds was because we specialized in certain sounds. It was our best — the songs were our pet sounds."
The album was not unsuccessful. Caroline No, released as a solo single credited to Brian Wilson, went to #32 in the United States. Sloop John B was a #3 single in the U.S. and a #2 single in Great Britain. Wouldn't It Be Nice charted at #8 in the U.S., while its flip side, God Only Knows, was a #2 single in Britain. The album broke into the Top Ten in the U.S. and just missed the top spot in Britain.
Yet, in the United States, the performance of Pet Sounds was slightly off the mark that had been set by its predecessors. It was the group's first studio album in three years not to be certified as a Gold Record. In the years since its release, the blame has been laid on Capitol Records for failing to understand and support the record to the degree they might have.
"At Capitol Records, I think they were a little bit afraid of it," theorized Carl some years later. "They probably thought they would lose a market, or a segment of people."
"This album was so radical compared to the really nice, commercial Barbara Ann's that we had been making, that they had been so successful in selling, that they just wanted more," explained Bruce. "They didn't promote Pet Sounds, because they said that it wasn't commercial and the people wouldn't understand it. Capitol just didn't think that this was the direction that we should take, so they didn't promote it."
"They just kind of put it out," asserted Mike. "But it kept building and building. Now, it seems that it's a lot of people's favorite album."
No less a talent than Paul McCartney has proclaimed it a personal favorite. "It was Pet Sounds that blew me out of the water," he recounted in 1990. "I love the album so much."
The Beatles' producer, George Martin, also has sung the praises of the album. "The first time I heard Pet Sounds," he recalled, "I got that kind of feeling that happens less and less as one gets older and more blasé ... that moment when something comes along and blows your mind. Hearing Pet Sounds gave me the kind of feeling that raises the hairs on the back of your neck and you say, 'What is that? It's fantastic!' It gives you an elation that is beyond logic."
In 1995, nearly 30 years after the album was released, a panel of some of the most successful musicians, songwriters and producers in rock music was assembled by Britain's MOJO magazine to determine the "Greatest Album Ever Made." When the balloting was completed, the winner was Pet Sounds.
Two years later, the album was accorded yet another honor, when it became one of the few individual albums to which a boxed set has been devoted. The Pet Sounds Sessions, a four-CD package, provided a thorough exploration of the album's construction via tracking session highlights, a complete set of vocal-less backing tracks, a counterpart set of vocals-only mixes, alternate versions of songs, copious documentation and — most significantly — a stereo mix of the album.
For many years, Pet Sounds was not available in a true stereo mix. Brian, nearly deaf in one ear, had submitted the album to Capitol only in monaural form. Although Capitol had released an electronically-rechanneled version in the mid-Sixties, a true stereo rendition had remained elusive. Then, in 1996, in conjunction with the album's 30th anniversary, the original master tapes were accessed and a stereo mix finally constructed. Until now, however, that mix has been available only as part of the boxed set. This CD offers the stereo mix, together with Brian's classic mono mix, in a single disc format.
"It certainly was a groundbreaking album," Carl reflected several years ago. "It was just so much more than a record; it had such a spiritual quality. It wasn't going in and doing another top ten. It had so much more meaning than that."
And, of course, it still does.
Surf's up!
Brad Elliott
May 1999
Copyright © 1999 Capitol Records, Inc. All rights reserved.
Unauthorized duplication is a violation of applicable laws.
International copyrights secured.
Liner notes by Brad Elliott. Used by permission of the author.
Maintained by the webteam | Last updated August 31, 1999

Web page design by M. Dowdle Head.