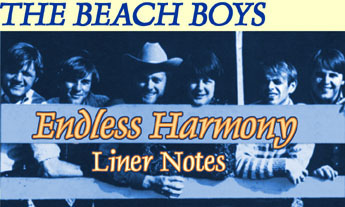 Soulful Old Man Sunshine (Writing Session Excerpt)
(Brian Wilson, Rick Henn)
Late in the summer of 1969, Brian Wilson and Rick Henn, former leader of the Sunrays, got together for several songwriting sessions at Brian's house on Bellagio Road in Bel Air. Out of those sessions came the Wilson-Henn composition, Soulful Old Man Sunshine. During those sessions, Henn had his portable tape recorder running and preserved this snippet of the newly-written song. That's Brian singing, with Henn on piano.

Soulful Old Man Sunshine
Recorded October-November 1969 at Sunset Sound and Brian Wilson's home studio
Produced by Brian Wilson and Rick Henn
(Brian Wilson, Rick Henn)
The track for this jazzy shuffle was cut at Sunset Sound with an assortment of Los Angeles studio musicians, most of whom normally played jazz. Henn recalls, "Brian didn't show up for the sessions. I just went in and arranged it, wrote orchestra parts out for the band." The vocals were recorded during several sessions at Brian's home studio. Henn: "Brian and I did the vocal arrangements together, and then when we got in and started laying vocals down, Brian came up with other ideas. As we were working, the arrangement evolved." The swing feel of the finished recording is unlike anything else the Beach Boys ever recorded. "The best part is the background vocals," Henn says. "Nobody sings as well as the Beach Boys."

Radio Concert Promo 1

This radio spot for use in promoting Beach Boys concerts was recorded on March 24, 1966 at Columbia Studios. That's Dennis, obviously, billing himself as "the greatest drummer on earth," and that's Brian poking fun at him, telling him he "wouldn't pay two cents to see you."

Medley: Surfin' Safari/Fun Fun Fun/
Shut Down/Little Deuce Coupe/
Surfin' U.S.A. (Live)
Recorded in concert Oct. 22, 1966 at the University of Michigan, Ann Arbor, MI
Produced by Brian Wilson
(Brian Wilson, Mike Love/Brian Wilson, Mike Love/Brian Wilson, Roger Christian/Brian Wilson, Roger Christian/Brian Wilson, Chuck Berry)
Even today, the Beach Boys often perform several of their faster-paced surfin' and car songs in a medley. This early example of the practice was recorded during the first of two shows performed the same day at the University of Michigan. Although he didn't play, Brian made the trip with the group, and rehearsed them extensively for performing their new single, Good Vibrations. (The performance of Good Vibrations from the day's second show can be found on Capitol's five-CD boxed set, Good Vibrations: Thirty Years of the Beach Boys.)

Surfer Girl (Binaural Version)
Recorded June 12, 1963 at Western Studios
Produced by Brian Wilson
(Brian Wilson)
Surfer Girl was the first ballad Brian ever wrote, predating the group's signing to Capitol Records, although he held it for their fourth single on the label. Inspired by When You Wish Upon a Star from the Pinocchio soundtrack, the song was the first Beach Boys release to carry the credit "Produced by Brian Wilson." Here, the vocals and the backing track have been separated as much as possible so that you can more fully appreciate the group's singing, especially Brian's beautiful falsetto.

Help Me, Rhonda (Alternate Single Version)
Recorded Feb. 24, 1965 at Universal/Radio Recorders and March 4 & 21, 1965 at Western Studios
Produced by Brian Wilson
(Brian Wilson, Mike Love)
Help Me, Rhonda originally was simply an album track on The Beach Boys Today!, but Brian recognized the song had a greater potential. A month after completing that album, he was back in the studio recutting the track with the cream of the Los Angeles studio musicians. A week-and-a-half later, he had the Beach Boys in the studio to add Alan Jardine's lead vocal and the group backing vocals. But he was far from through. On March 21, he had the group back in the studio to add a set of live instrumental and vocal overdubs as the song was being mixed. Added that day were castanets, 12-string guitar, piano and a distinctive "wah-wah-wah" high harmony part. The resulting mix was labeled "final mono master" on the tape box, but within a few days Brian changed his mind and returned the group to the studio, creating a different set of live overdubs for another try at a final mix. He was satisfied with that mix and when it was released, it became the group's second #1 single. Heard here for the first time is the unreleased March 21 mix.

Kiss Me, Baby (Stereo Remix)
Recorded Dec. 16, 1964 and Jan. 15, 1965 at Western Studios
Produced by Brian Wilson
(Brian Wilson, Mike Love)
With its dense instrumentation, Kiss Me Baby represents Brian's mastering of Phil Spector's "Wall of Sound" approach to recordmaking and making it his own. Against a wide array of instrumentation — three guitars, electric bass, string bass, piano, drums, percussion, mallets, French horn, English horn, tenor saxophone and baritone saxophone — Brian double-tracked the Beach Boys singing the haunting melody and personal lyrics. This first-time-ever stereo mix required synching three tracks of instrumentation from one tape to two vocal tracks on another tape, producing a five-track recording from which a new mix could be made. Hint: listen to this one with headphones!

California Girls (Stereo Remix)
Recorded April 6, 1965 at Western Studios and June 4, 1965 at Columbia Studios
Produced by Brian Wilson
(Brian Wilson, Mike Love)
Brian has been known to call California Girls the Beach Boys' greatest record production and says the pseudo-classical opening is his favorite piece of music that he's written. That opening was written, he says, to fill a need for "some kind of an introduction that would be a total departure from how the song sounds and yet would somehow lead into the melody." Brian recorded the instrumentation for the song across a three-track tape, but did the vocals on a new eight-track tape machine at Columbia Studios. Using the expanded capability that unit provided, he recorded three tracks of backing vocals and triple-tracked Mike Love's lead vocal. To create this stereo version, the three tracks of instrumentation were synched with the six vocal tracks, providing a working palette of nine tracks from which to mix. This is another one made for headphone listening!

Good Vibrations (Live)
Recorded live Dec. 8, 1968 at the Astoria in Finsbury Park, London
Produced by The Beach Boys
(Brian Wilson, Mike Love)
In December 1968, while touring Great Britain, the Beach Boys recorded several shows for possible release as a live album. The album, released a year-and-half later in the United Kingdom as Live in London, used the tapes from one of two shows the group played Dec. 8 at the Finsbury Park Astoria. Prior to the day's shows, the group engaged in a lengthy rehearsal and soundcheck, which also was recorded. This version of Good Vibrations is from that rehearsal and allows you to hear the touring group's chops without the audience noise that so strongly saturates the released album. That's Carl singing the lead vocal, just as on the million-selling hit version. The eerie high-pitched wavering sound, generated in the studio by a theremin, was reproduced in concert with a specially-made Moog ribbon synthesizer, played by Mike Love.

Heroes and Villains (Demo)
Recorded Nov. 4, 1966 at Western Studios
Produced by Brian Wilson
(Brian Wilson, Van Dyke Parks)
After recording Good Vibrations, Brian started to work on an album called Smile, which he claimed would be as much an improvement over Pet Sounds as that album had been over its predecessor. Smile would be "a teenage symphony to God," he claimed. Instead, the album never appeared, collapsing under its lofty aspirations. A Western epic titled Heroes and Villains was intended as the first single, but during the year Brian devoted to Smile, his conception of the song changed again and again. More than 30 recording sessions were devoted to the song. Eventually, a version of the song was released as a single in July 1967 and climbed into the Top 20 on the Billboard charts. This demo, however, represents an earlier conception of the song. Over his own piano playing, Brian sings one familiar verse, then launches into the lyrics of I'm in Great Shape, a title known to Beach Boys fanatics but never heard before. The performance breaks down, then Brian announces, "Here's another section" and begins to sing Barnyard, another known-but-never-heard piece. By the way, that's Brian's collaborator on Smile, lyricist Van Dyke Parks, assisting with the animal sounds.

Heroes and Villains (Live)
Recorded in concert October or November 1972
Produced by The Beach Boys
(Brian Wilson, Van Dyke Parks)
By the early 1970s, the Beach Boys had evolved into one of the finest concert acts in rock music, carefully mixing their classic hits with more recent adventurous material. In 1972 and 1973, more than a dozen concerts were recorded for the purpose of assembling a live album. Originally, a single album of material was prepared in January 1973, but it was never released. Instead, a two-record set, The Beach Boys In Concert, appeared in November. This version of Heroes and Villains, featuring Alan on lead vocal, was included on the unreleased single album, but replaced by a different performance of the song on the released album.

God Only Knows (Live)
Recorded live September 11, 1967 at Wally Heider's Studio
Produced by The Beach Boys
(Brian Wilson, Tony Asher)
In August 1967, the Beach Boys (including Brian, but without Bruce Johnston) traveled to Hawaii for two nights of concert performances. The shows were recorded with the intention of producing a concert album, but the taping was beset by technical difficulties and most of the recordings were deemed unusable by the group. Several weeks later, they assembled at Wally Heider's Studio and taped a live-in-the-studio performance with all six Beach Boys present. Even though some of those performances were outstanding, the project was abandoned soon thereafter. From that in-studio set comes this version of God Only Knows. The backing is sparse, placing the emphasis on Carl's breathy (and breathtaking) lead vocal. That's Brian at the beginning of the song, voicing the lines played by the French horn on the record. And that's Brian and Bruce joining Carl in the round at the end of the song.

Radio Concert Promo 2

Another radio spot for promoting Beach Boys concerts, also recorded March 24, 1966 at Columbia Studios. Bruce Johnston is playing the piano behind Alan Jardine.

Darlin' (Live)
Recorded live June 21, 1980 at Knebworth, England, with later overdubs
Produced by Bruce Johnston
(Brian Wilson, Mike Love)
Carl Wilson was possessed of an amazing voice. He could not only sing gentle lead vocals, as on Good Vibrations and God Only Knows, but he also could get gritty on rockers like Darlin', the group's 1967 foray into rhythm-and-blues. At Knebworth 13 years later, Carl turned in a terrific vocal performance on the song. The show was recorded and filmed for possible release as a video album. Afterwards, Bruce and engineer Stephen Desper supervised an extensive reworking of the tapes. Carl's live lead vocal was kept on Darlin', but his guitar and the group's backing vocals were replaced with studio overdubs.

Wonderful/Don't Worry Bill (Live)
Recorded live Nov. 23, 1972 at Carnegie Hall, New York City
Produced by Carl Wilson
(Brian Wilson, Van Dyke Parks/Ricky Fataar, Blondie Chaplin, Steve Fataar, Brother Fataar)
In 1972, the Beach Boys added two new members, guitarist Blondie Chaplin and drummer Ricky Fataar, both from a South African group, The Flame, that Carl had taken under his wing. Chaplin and Fataar expanded considerably the group's instrumental and vocal talent pool. In addition to contributing new compositions to the group, they brought with them a song, Don't Worry Bill, from The Flame's only album. In concert, the medley of the song with the Smile-era composition Wonderful proved to be a memorable high point. Neither Chaplin nor Fataar were long-term group members. Chaplin left in late 1973 and Fataar left a year later.

Do It Again (Early Version)
Recorded May 26, 1968
Produced by Brian Wilson and Carl Wilson
(Brian Wilson, Mike Love)
This rough early version of Do It Again was found in a tape box labeled Rendezvous, apparently the original working title for the song. The discerning listener will pick up some interesting lyrical differences, like the verse that ends "Let's get back together and surf again," instead of "...and do it again." The recording is a simple four-track one, but it served as the starting point for the finished single. From this version, the group salvaged the bass/drums/organ/guitar rhythm track, then added a new drum track and redid all the vocals and the guitar solo. The finished song harkened back to the group's earlier sun and surf songs and gave them a Top 20 hit.

Break Away (Demo)
Recorded March 31, 1969 at Gold Star Studios and April 10, 1969 at I.D. Sound
Produced by Brian Wilson and Murry Wilson)
(Brian Wilson, Reggie Dunbar)
When you listen to this version of Break Away, you are hearing exactly what the Beach Boys heard when they went into the studio to record their vocals for the song — that is, Brian's prototype for it: the completed instrumental track, but with Brian doing all the vocals. Brian often would create such fully-produced "demos" to show the group what they needed to sing. In this case, his demo is lacking only the group's vocals and the circular vocal tag that closes the released version.

Sail Plane Song
Recorded June 8, 1968 at Brian's home studio
Produced by Brian Wilson
(Brian Wilson, Carl Wilson)
Sail Plane Song is what it says on the tape box; on the tape leader it says Glide Plane Song; but by any title, it's the original version of what became Loop De Loop. Written in the heyday of the psychedelic Sixties, this is as close as Brian got to the "acid rock" being done by such San Francisco bands as Jefferson Airplane. The Beach Boys themselves are playing the instruments, not studio musicians. Carl is on bass, Alan guitar, Brian piano and Bruce organ, and it's likely Dennis on drums. And be sure to listen for Brian's imitation airplane sounds at the end of the song!

Loop De Loop (Flip Flop Flyin' in an Airplane)
Recorded March 5 & 6, 1969 at Western Studios, with later sessions at Brian Wilson's home studio, and July 3 & 4, 1998 at The Red Barn, Big Sur, CA
Produced by Alan Jardine
Remixed by Alan Jardine
Engineered by Steve Desper
(Brian Wilson, Carl Wilson, Al Jardine)
Alan extensively reworked the arrangement of this from Brian's original. The instrumentation includes drums, tympani, cymbals, a string bass, a tack piano, a regular piano, a Fender Rhodes, several guitars (including one fed through a Leslie speaker), a ukulele, a tambourine, a glockenspiel, horns (including a tuba), woodwinds, a Moog synthesizer, a miniature siren (made by Acme) and two tracks of special effects, including the sounds of a circus audience, a "buzz" plane and a biplane. Interestingly, the biplane sounds were not "canned" sound effects, but were taped especially for this song, in the front yard of a neighbor of Alan's who had built his own biplane (painted bright red, engineer Stephen Desper recalls). Although a final mix was made in 1969, Alan was never satisfied with his vocal on the verses. Especially for this album, Alan went back into the studio and, with Desper manning the console again, recorded a new lead vocal, triple-tracking it to give it the fullness he desired. In all likelihood, that sets a record for the longest time to complete a recording — 29 years!

Barbara
Recorded April 1971 at Brian's home studio
Produced by Dennis Wilson
(Dennis Wilson)
Daryl Dragon, a frequent collaborator of Dennis' in the early Seventies, remembers Dennis used to play this ode to his second wife quite often. This demo features Dennis and Dragon on separate pianos, Dennis playing the lower octaves, while Dragon (who would go on to fame later as the Captain of The Captain and Tennille) plays the higher notes. Nobody clearly remembers who played the guitar; it may have been Carl, but engineer Stephen Desper recalls that Dennis played guitar, too, so it could be him overdubbed. If the song had been prepared for release, Dragon says, it would have had a heavy orchestral arrangement, similar to Dennis' songs on Carl and The Passions — So Tough. The pianos are playing "ideas for lines of string overdubs," he says.

'Til I Die (Alternate Mix)
Recorded Summer 1970 at Brian Wilson's home studio
Produced by Brian Wilson and Carl Wilson
(Brian Wilson)
Brian Wilson's tour de force in the early Seventies was undoubtedly 'Til I Die, released on the Surf's Up album in 1971. The intensely personal lyrics reflected a deeply fatalistic resignation about life. Brian worked with the song on and off for months, recalls engineer Stephen Desper. This alternate mix was made by Desper for his own enjoyment. "I did that mix for me," he admits. His mix starts with a solo bass, then adds other instruments as the song builds lyrically and vocally. The vibes are especially prominent. Most interestingly, he loops the track, so that it plays through once instrumentally before the vocals enter. Desper played his mix for the Beach Boys, but "that was not the mix they wanted to put out," he says. Whether you think it's better than the released mix or not, you have to agree it certainly is striking.

Long Promised Road (Live)
Recorded live Nov. 23, 1972 at Carnegie Hall, New York City
Produced by Carl Wilson
(J. Rieley, Carl Wilson)
This concert recording of Carl's 1971 songwriting debut is heard just as it was performed, with no overdubs or corrections. When Carl briefly embarked on a solo career in the early 1980s, this was the only Beach Boys song he included in his concert sets.

All Alone
Recording begun in June 1978 at Brother Studios
Produced by Carlos Muñoz
(Carlos C. Muñoz)
All Alone was recorded by Dennis Wilson for his never-released second solo album, Bamboo. Whereas all of the material on his first album, Pacific Ocean Blue, had been written and produced by Dennis, All Alone was the creation of keyboard player Carlos Muñoz, a member of the Beach Boys' touring band during the Seventies. Muñoz not only wrote the song (in 1968, according to the copyright), but produced Dennis' recording of it, too. "Dennis had the greatest respect for Carli," recalls engineer Tom Murphy. "He thought Carli was so talented." For the track, Muñoz drew upon his fellow musicians in the Beach Boys' backing band. Playing on All Alone are band members Bobby Figueroa (drums), Joel Peskin (saxophone) and Sterling Smith (keyboards), supplemented by Smith's brother Tommy (percussion) and Dave Hessler (guitar & bass), both members with Smith in a band called The Load. Muñoz played the piano heard at center stage, while Dennis added percussion and the sounds of an ARP String Ensemble. Since Dennis' death, the unfinished recording has taken on an especially forbidding tone: "If I could live my life again ..."

Brian's Back
Recorded October-November 1978 at Santa Barbara Sound and W.A.V.E.S. Mobile Studio, Santa Barbara, CA
Produced by Paul Fauerso
(Mike Love)
Mike Love wrote Brian's Back in response to the "Brian's Back" promotional campaign of the mid-Seventies. "I never knew that he was gone," he sang about his sometimes reclusive cousin. The song was recorded for Mike's first solo album, First Love, but the record was never released. Carl guested on the track, providing his distinctive voice to the catchy chorus. The rest of the vocals were provided by producer Fauerso, frequent Love collaborator Ron Altbach (a former member of the group King Harvest, of Dancing in the Moonlight fame) and ace session vocalist David Sommerville. Offered here is the original version of the song, including the acoustic bridge that was later edited out. The beautiful guitar work was courtesy of Jerry Donahue, formerly with the British folk-rock group, Fairport Convention.

Endless Harmony
Recorded January-February 1980 at Rumbo Recorders
Produced by Bruce Johnston
(Bruce Johnston)
Bruce wrote this as Ten Years' Harmony during his sabbatical from the Beach Boys in the mid and late Seventies. Upon his return, he produced the song for the group's 1980 album, Keepin' the Summer Alive. Originally written completely in the third person, that perspective was changed for the group's version. "Carl and I talked about that," Bruce says, "and he said he'd feel real funny singing about himself. We decided to sing the verses in the [third] person, and when the chorus comes into the song, it would go to Carl singing in the first person." Bruce handles the lead on the first two verses.

<!— credits —>

All tracks except Surfer Girl appear Courtesy of Brother Records, Inc., under exclusive license to Delilah Films.

Dedicated to the memory of Carl and Dennis Wilson.

Copyright © 1998 Capitol Records, Inc. All rights reserved.
Unauthorized duplication is a violation of applicable laws.
International copyrights secured.

Notes written by Brad Elliott. Used by permission of the author.

<!— contact —>

Maintained by the webteam | Last updated July 30, 1998


<!— bottom nav —>