Beach Boys' Party!
Uncovered and Unplugged
PRESS RELEASE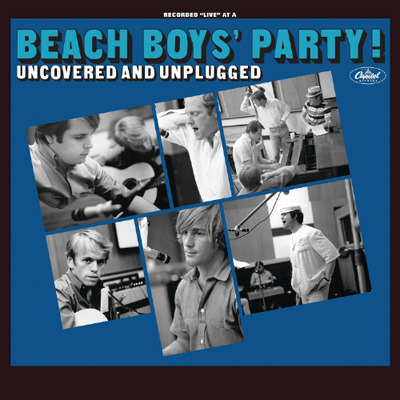 The Beach Boys' 1965 Album, Party! Remixed, Remastered, and Expanded Without Overdubbed Festivities for Beach Boys' Party! Uncovered and Unplugged
50th Anniversary 2CD and Digital Album Features 81 Songs and Dialog Tracks Culled from The Beach Boys' Party! Studio Sessions
Los Angeles, California — October 22, 2015 — In November 1965, The Beach Boys released Beach Boys' Party!, a creative and well-loved album of covers mixed with separately recorded party sounds created by the band members, their families and friends. Party! was a Top 10 Billboard hit, quickly going gold and spawning the timeless No. 2 smash hit, "Barbara Ann." To celebrate the popular album's 50th anniversary, The Beach Boys have overseen a remixed, remastered and expanded edition, Beach Boys' Party! Uncovered and Unplugged, which removes the overdubbed festivities from the 12-track original album's mix and adds 69 more songs and dialog tracks culled from all of the band's Party! recording sessions. To be released worldwide on November 20 by Capitol/UMe, the 2CD and digital album also includes photos from the sessions, package essays by Beach Boys historians Alan Boyd and Craig Slowinski, and notes by the new edition's producer, Mark Linett. A vinyl LP edition of the Party! album's original 12 tracks, remixed and remastered in the "Uncovered and Unplugged" style, will follow on December 11.
Over the course of several long sessions at Western Recorders in Hollywood, California in August and September of 1965, The Beach Boys recorded what was, essentially, the first "unplugged" rock & roll album, with instrumentation limited to acoustic guitars, bass, bongos, harmonica and a tambourine. Joined in the studio by a few friends and collaborators, the band ran through many of their favorite songs of the time, including hits by The Beatles, The Rolling Stones, Bob Dylan, and others, even spoofing two of their own biggest hits — "I Get Around" and "Little Deuce Coupe" — with self-parodying renditions. The Beach Boys' version of The Regents' "Barbara-Ann" (released by The Beach Boys minus the title's original hyphen), included on the album, leapt up the Billboard singles chart and became one of the band's signature songs, beloved by fans around the world.
"The Party! album was a result of the pressure Capitol Records was putting on us for another album," explained Beach Boys founding member Mike Love. "And we didn't really have time to develop the type of album we wanted to develop, which Brian was working on, called Pet Sounds... So we said, 'Well, what can we do quickly and easily?' And we decided to do this party album."
"Mike was saying, why not a party album and we can act like we are [at a party], and just be ourselves on tape, you know?" recalled Beach Boys founding member Brian Wilson. "And that's what happened. It was a very spontaneous album."
After the band wrapped recording sessions for the album's songs — plus many additional songs — they returned to the studio with friends and family in tow, for a three-hour session to record party sounds and chatter to be mixed with the songs for the freewheeling Beach Boys' Party! album. Removed from this new "Uncovered and Unplugged" edition, the mixed-in party sounds remain intact on the original album, which was most recently remixed in stereo for reissue by Capitol in 2012.
Source: prnewswire.com
Maintained by the webteam • Last updated October 23, 2015