In Memoriam: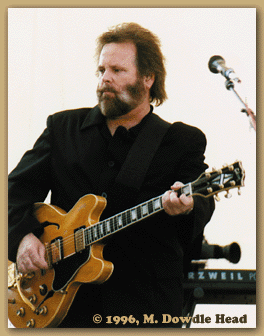 CARL DEAN WILSON

December 21, 1946 – February 6, 1998
"Heart and Voice of an Angel"

These pages are dedicated to the memory of our beloved Carl Wilson.
Early in 1998 we lost Carl Wilson, lead guitarist and founding member of The Beach Boys, to complications from lung cancer. He was 51. Carl is best known for his strong, soulful, and angelic voice, featured in songs like "God Only Knows," "Good Vibrations," "Darlin'," "I Can Hear Music," "This Whole World," "Feel Flows," "Long Promised Road," "Wild Honey," and "Heaven." Carl is survived by his wife Gina, his sons Jonah and Justyn, and his brother Brian.
Carl has also been called "the glue that held The Beach Boys together." Shortly after his passing, The Beach Boys broke up as a touring band, splintering into three different acts, after 36 years of live shows together.
Gina Martin Wilson has graciously sent this message for Carl's fans:
"I am so blessed to have had 19 years of heaven on earth with the most incredible human being God has ever created. No words could ever describe the loss and how I long for him. Only the depth and strength of our love will keep me going until we are finally reunited.


I thank you all for not only sharing your love and thoughts of Carl in the beautiful cards, notes and letters, but also for sharing of yourselves with me. It is greatly appreciated."
Brian Wilson has issued this statement about his brother:
"The world has lost a beautiful voice and one of the most spiritual people I've ever known.


It goes without saying we are all going to miss him very much. I could not have made the music I did in my life without Carl by my side. I can't believe that I'm never going to get to sing with him again. He was tremendously supportive of my efforts.


In honor of his memory, I'm dedicating my future music to my brother Carl."
Fellow Beach Boy Alan Jardine said of Carl:
"I would just like to say that we're really all still grieving for Carl. ... His passing really affected us all profoundly. He was the spiritual center of the group, and he had so much to offer and his departure was so premature. It's still hard to imagine. We had fully expected him to recover. He had fully expected that too. It's just a terrible loss losing him."
Fellow Beach Boy Bruce Johnston said:
"I honestly didn't expect an early departure. I am shocked and saddened, naturally. I'm going to really miss singing 'God Only Knows' with Carl, my favorite song to sing in concert."
BBFC President Alice said:
"I had the privilege of knowing Carl personally. I have never known a more loving and considerate person. Carl was always thinking of someone else."
Page 2: More tributes from family, friends, and colleagues.

MEMORIAL EVENTS AND MORE:
Find out all about the Carl Wilson Walks Against Cancer (and companion benefit concerts) in the Los Angeles area, as well as CWF events elsewhere, at the Carl Wilson Foundation's website! Info and photos from CWF's scrambles, concerts, and Walks are available at the link above.

Canadian Carl Wilson Walk Against Cancer, June 11, 2000 at Pleasure Valley, Uxbridge, Ontario (near Toronto).

Beach Boys Britain's Carl Wilson Tribute Concert, Dec. 20, 1998 in London, England.

A limited edition Carl Wilson CD, Long Promised Road, benefitting the American Cancer Society.

Beckley-Lamm-Wilson's Like A Brother album, with five songs featuring Carl, including "I Wish for You," "Today," "Run Don't Walk," "They're Only Words," and the title tune (written for brother Brian.) A press kit, audio clips for the whole album, release details, and purchasing info are available at the America Fans home page.

Rickenbacker's Carl Wilson Limited Edition guitar.


PLEASE SEND MEMORIAL DONATIONS TO:
13801 Ventura Blvd.
Sherman Oaks, CA 91423
Maintained by the webteam • Last updated May 31, 2018