In Memoriam: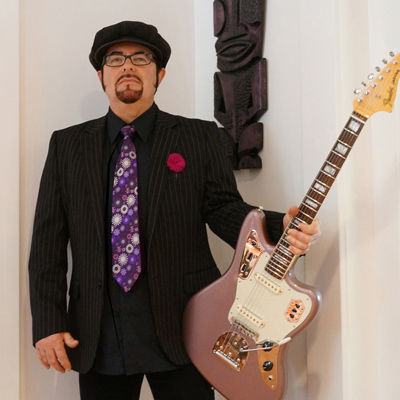 NICK (NICKY WONDER) WALUSKO

May 22, 1960 – August 6, 2019
Nick Walusko (aka Nicky Wonder) was an accomplished guitarist and a co-founder of the Wondermints, a power pop band from Los Angeles, CA. He joined Brian Wilson's backing band in the late 1990s (along with fellow 'Mints Darian Sahanaja, Probyn Gregory, and Mike D'Amico), toured and recorded with Brian through 2019, and was also part of The Beach Boys' 2012 reunion backing band.
Nicky was a featured player on the instrumental "Pet Sounds" during Brian Wilson's Pet Sounds tours, his guitar chops emphasizing the James Bond cinematic feel of the titlular song. He passed away as Brian's tour resumed in August 2019. The shows went on, but with a spoken tribute to Nicky replacing "Pet Sounds" in the show, and a memorial set up on stage with his guitar and flowers. By all accounts, he was a witty and intelligent man and much loved by his colleagues.
Those wishing to make donations in Nicky's memory are asked to contribute to his memorial GoFundMe page.
Brian Wilson on Nicky Wonder: "Today is a sad sad day. It is with my deepest regret to tell you that our beloved Nicky Wonder passed away last night in his sleep. We are in a state of shock as you can imagine. But we are going to honor him with tonight's show. Nicky was my favorite guitar player ever. I always loved the way he used his fingers. He was a real Rock and Roll guy and great singer too. He was a friendly and very nice person and he was really really funny. He had the best sense of humor. We are all crying today, he will be missed beyond words. Our hearts go out to his wife Susan and his entire family, friends and fans. We love you Nicky. Love & Mercy, Brian Wilson."
— Aug. 6, 2019
Alan Jardine on Nicky Wonder: "We are shocked and deeply saddened to hear of the passing of a member of the Brian Wilson band family, Nick Walusko, better known as Nicky Wonder. He was a special friend of mine and Mary Ann's and a great guitarist (and total perfectionist!) and a unique aficionado on almost everything on this planet, especially when it came to music, TV and film. Nicky was also very VERY funny and always had something to say about anything. He played such a significant role on our team and we dedicated tonight's Brian Wilson show (the first one since the BeachLife Festival in May) to Nicky. This loss has been deeply felt by all of us and our thoughts are with his wife Susan, his family, friends and fans. RIP Nicky, we love you and your little dog Ringo."
— Aug. 8, 2019
"Without Nicky Wonder, these last five shows have been very bittersweet and at the same time, we have been playing them with a new found energy and emotion. Nicky played with such authority, you could hear him from a mile away so his sound alone hasn't been easy to replace. His absence has really brought a tear to my eye and I almost couldn't sing 'God Only Knows,' but Brian Wilson and everyone in this amazing band has really pulled together and the sweetest part has been the bouquet of flowers in Nicky's spot on stage, it's been our rallying point each night. We REALLY miss you Nicky."
— Aug. 13, 2019
Blondie Chaplin on Nicky Wonder: "Please keep Nicky's family and his band family in your thoughts. Such terribly shocking and sad news."
— Aug. 7, 2019
Billy Hinsche on Nicky Wonder: "The Nicky Wonder I came to know and love over the years was both a gentleman and a scholar not just of music, but of many things. He was off-the-charts intelligent, erudite, hilarious, intense, kind, sartorially splendid, a Wrecking Crew level guitarist/vocalist, a tough competitor on the tennis court, and so much more. Here are a few photos of some of the precious times I got to spend with him. I'll miss you, Nicky, and as you used to say — Excelsior ! ..."
— Aug. 8, 2019
Matt Jardine on Nicky Wonder: "I'm awake & can't sleep. I've been numb all day & now I'm missing my friend. What can be said about Nicky Walusko that hasn't been said? So INCREDIBLY talented. So gracious, funny & full of life. A friend. You made a difference Nick & I thank you for that."
— Aug. 11, 2019
Rob Bonfiglio on on Nicky Wonder: "The altogether way too brief amount of time I got to know and spend with Nicky was joyous and enlightening. He was the kind of guy most clicked with instantly and in parting would always say 'love you, man.' We'll continue that conversation about Richard Feynman in the afterlife. Godspeed & love you my musical brother..."
— Aug. 8, 2019
Maintained by the webteam • Last updated August 19, 2019