In Memoriam: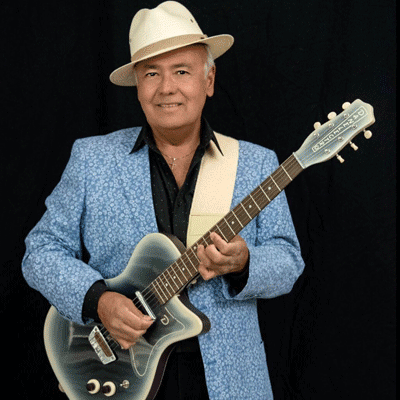 William E. (Billy) Hinsche

June 29, 1951 – November 20, 2021
Billy Hinsche passed away on November 20, 2021, at the age of 70. He started his career with the successful pop music group Dino, Desi & Billy — the original "boy band" — with his friends Dino Martin and Desi Arnaz, Jr. in the '60s. He later became a long-term member of The Beach Boys' touring band, singing and playing keyboards and guitar in concert and on records. Billy was also a member of the extended Wilson family. His sister Annie was married to Carl Wilson for many years, and "Uncle Billy" is much beloved by the BBs' families. He was always friendly with fans, and performed a popular live-at-home show, Live From Billy's Place, during 2020-2021. He will be greatly missed by all. Our condolences go out to all the Wilsons and the extended Beach Boys' family.
Brian Wilson on Billy Hinsche: "Love & Mercy Billy Hinsche"
— Nov. 20, 2021
Mike Love on Billy Hinsche: "We lost a great friend, family member, and forever member of The Beach Boys band on Saturday. We'll miss him greatly, especially his family members will feel his loss most deeply. All of us who had the pleasure of knowing him will miss his jovial nature and immense talent and sense of humor. Billy was a loving son to his mother Celia who incredibly passed Saturday as well.... We are all so saddened by his passing, as [his sister] Annie said, 'he has his Angel wings now,' and joins his beloved Mother and Father along with my dear cousins Carl & Dennis, & Auntee Audree. The world misses you Billy, we were better for having your spirit, laughter, Talent, Friendship & Love. | RIP Friend, We Love You Always..."
— Nov. 21, 2021
Alan Jardine on Billy Hinsche: "Billy Hinsche, you were more than just a friend, you were family, and we will miss you greatly, especially your laughter and off-color jokes in the dressing room. I can't believe you're gone, but the thought of you going to the next world with your beautiful Mom Celia and reuniting with your Dad Otto along with Carl, Denny, Audree, Dino, Ricci and all of our loved ones that have passed, is very comforting to my heart. I love you Billy. Sail on, sailor."
—Nov. 21, 2021
Blondie Chaplin on Billy Hinsche: "Rest In Peace Billy! Billy (Hinsche) was a good friend to the Flames when the S Africans landed in LA. | Brother Billy, my father's name, was the welcoming committee for the The Flames when the South Africans landed in Los Angeles Summer 1969, pleasant funny caring loving and after all who gave this African, the introduction to A TACO and later an Orange Julius and took us up and down sunset boulevard (long street) cruising by Dino's on sunset... Rest well Brother Billy we appreciate your spark of light down here. Hamba Gashle (go Easy) | Amen Safe Passage Billy"
—Nov. 21, 2021
Carnie Wilson on Billy Hinsche: "I can't believe you are gone. My memories of you growing up laughing, joking, playing the keyboards, Carl's bestie, Annie's brother, Celia's son, Dino Desi and You... my Uncle Billy. Sgt. Bilco. Your hair that was always great... I watched it turn gray over the years but your energy never got old. Thank you for making this world a better place with your relentless spirit and sense of humor. Your talent was so huge and you were always one step ahead of us all with your ideas and creativity. ... I swear to God the only thing that makes me feel a little relief is that you and Grandma passed on together and that Otto, Carl Dennis, Audree, all the grandparents and loved ones are greeting you. Fly peacefully and I know you will live on forever. We won't stay sad for long because you wouldn't want that. Eat some Lumpias for us all with Grandma Celia up there. I will miss you. "
—Nov. 20, 2021
Steve Desper on Billy Hinsche: "Billy's passing . . . too, too soon. He had so much more to give.... Memories of Billy go back 50 years. He was always around and involved in one way or another. Whether in the studio or on the road, we always had good times and laughs together, a good friend indeed. We were planning an Interview on his podcast, during which he never mentioned his health. That was how he was, always about the music, not him. Such a talent, his contributions to Beach Boy music are incalculable. That he will be missed is an understatement. Rest in Peace my friend."
—Nov. 21, 2021
Bobby Figueroa on Billy Hinsche: "I remember meeting Billy for the first time on my very first Beach Boy show. We met up after the show on the rooftop of the hotel we were staying at in Tacoma, WA. We had a long kind of get to know you conversation untill late that evening. After that we became close road buddies and always had each other's back on many a crazy escapade around the planet. Here's looking back on the good times that we had. Cheers my friend and we'll see you down the road ... RIP Billy Hinsche."
—Nov. 21, 2021
Stephen Bishop on Billy Hinsche: "His passing is such a heartbreaking loss. He was a friend of mine, we had spoken recently, and Billy told me about all the exciting projects he had coming up."
—Nov. 21, 2021
Deana Martin on Billy Hinsche: "We're heartbroken and saddened at the loss of my lifelong friend Billy Hinsche. He was a wonderfully talented entertainer with a kind and gentle soul. He will truly be missed."
—Nov. 21, 2021
Maintained by the webteam • Last updated May 31, 2022