BILLY HINSCHE
The Road Well Traveled
DVD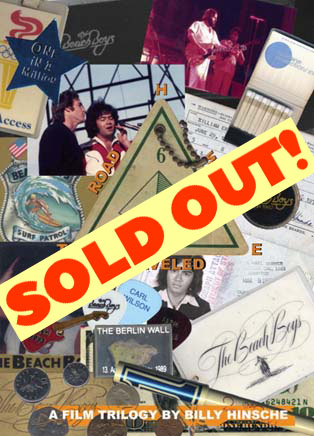 The Road Well Traveled has now sold out! Billy would like to thank the fans in the US, Canada, UK, Ireland, France, Germany, Netherlands, Denmark, and Australia for all their support. There are no immediate plans for a second pressing at this time.

ABOUT THE FILMS
This trilogy of films was shot entirely "on the road" during the 1974 and 1995 Beach Boys' summer tours. Band member and filmmaker Billy Hinsche incorporates his skills as a documentarian to bring this rare, educational, and entertaining footage to you on DVD.
"Know the Road" is a rock 'n' roll travel tips tutorial that has been a best selling video since 1998 when it was initially released. Featuring Billy as your host, he guides you through this humorous and educational piece that is now available for the first time as a digitally enhanced DVD. It features special appearances by the Beach Boys and other well-known musicians. Running time: 60 minutes.
"The Match" is a black & white short subject comedy piece originally recorded on a PortaPak video system. The subject matter is an outrageously funny backgammon game featuring Dennis Wilson, Carl Wilson, and members of the 1974 Beach Boys band as the "actors." It's a sidesplitting farce that has never been seen until now. Running time: 15 minutes.
"One in a Million" was also shot in black & white, and the images are culled from the 1974 PortaPak project. This touching yet light-hearted piece is dedicated to Dennis Wilson and is accompanied by a very personal song written for him by Billy Hinsche. Running time: 5 minutes.

TESTIMONIALS
"It is quite remarkable, and I am not easily impressed. You won't be disappointed."
— Jeffrey Foskett, Brian Wilson's Musical Director
"There is practically no footage existing of the 1974 Beach Boys. And now we've got the option of seeing Carl and Dennis in their prime because Billy is sharing his footage with the public. In my opinion this footage is priceless, and I'm stoked to get a chance to view it."
— Jon Stebbins, Dennis Wilson biographer
"'Know the Road' is an absolute hoot. That film is a cute, eccentric, and surprising look at the sometimes strange world a touring musician inhabits. Have you ever wondered how those musicians and roadies spend the other 22 hours a day when they're not onstage? Have you ever wondered how they keep from going completely bonkers? Check out 'Know the Road'!"
— Alan Boyd, Grammy-nominated filmmaker / Beach Boys' archivist
"For this particular project I'm basically Post Supervisor, making sure Billy worked with the best editors at the best facilities. Apart from seeing Carl and Dennis again having so much fun together, the thing that really appeals to me about 'The Match' is the lighthearted atmosphere on the road. These guys are HAPPY to be on tour, everyone are still just pals, still friendly, still happy to party in a hotel room somewhere on tour. And still crazy. My God, to have been a fly on the wall in that room."
— Steve Latshaw, Screenwriter / Beach Boys fan

DVD CREDITS
Cover:
Graphic design and layout by David Beard
All items scanned are the personal property of Billy Hinsche
Photo credit, Dennis Wilson & Billy Hinsche: Wayne Williams © 1975
Photo credit, Carl Wilson & Billy Hinsche: Billy Hinsche Archives © 2005
The Road Well Traveled
Copyright © 1995 and 1998, Bilco Productions;
copyright © 1974 and 2005, MFM Productions.
All rights reserved.
Special thanks to Steve Latshaw at Ascent Media, Fred Ray at RetroMedia, Phil Cooper at OPD Ltd.

Important Note: The Road Well Traveled and may not be compatible with all players.
Many current DVD players are (and virtually all future ones will be) DVD-R compatible. If you are unsure of the DVD-R compatibility status of your current DVD player, simply go to the Todd Video Productions website for a comprehensive list of most older DVD players and their model numbers.
Further, this DVD-R should play or be compatible with most computers. This link is provided for your convenience as a courtesy to you. Todd Video Productions is not affiliated with MFM Productions and is not involved with this project in any way.
Special Note: "One in a Million" was originally debuted publicly at the Dennis Wilson Bash in Santa Monica, CA, in December 2003 and subsequently screened at the CineVegas Film Festival in Las Vegas, NV, in 2004.
Disclaimer: There might be a slight "fluttering" effect that might occur at the top of your screen during a few seconds of "The Match" and "One in a Million." This is due to the original PortaPak video system "pulling" and "stretching" the videotape over the recording heads; you cannot "adjust" this on your home unit and is not a "tracking" problem.