BILLY HINSCHE
Carl Wilson — Here and Now DVD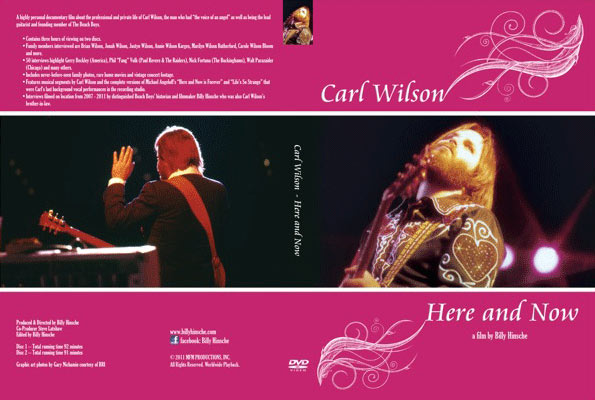 Cover photos copyright © Gary Nichamin, courtesy of BRI

CW-H&N Trailers: Version 1 and Version 2.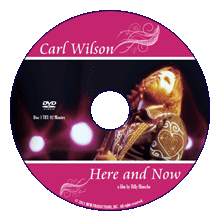 Carl Wilson — Here and Now is a highly personal documentary film about the professional and private life of Carl Wilson, the man who had "the voice of an angel," as well as being the lead guitarist and founding member of The Beach Boys.
Contains three hours of viewing on two discs.
Family members interviewed are Brian Wilson, Jonah Wilson, Justyn Wilson, Annie Wilson Karges, Marilyn Wilson Rutherford, Carole Wilson Bloom and more.
50 interviews highlight Gerry Beckley (America), Phil "Fang" Volk (Paul Revere & The Raiders), Nick Fortuna (The Buckinghams), Walt Parazaider (Chicago) and many others.
Includes never-before-seen family photos, rare home movies and vintage concert footage.
Features musical segments by Carl Wilson and the complete versions of Michael Angeloff's "Here and Now Is Forever" and "Life's So Strange" that were Carl's last background vocal performances in the recording studio.
Filmed on location from 2007-2011 by distinguished Beach Boys' historian and filmmaker Billy Hinsche, who was also Carl Wilson's brother-in-law.
COMMENTS
"Here and Now arrived yesterday — thank you, Billy, emotions ran the entire spectrum while I viewed it — truly a gift from you to a dear friend and brother."
— Bob Wallis
"Have now seen the DVD, I have only one word for it and that is BRILLIANT! You said some people thought it may be a little long but I could have watched another couple of discs no problem. I hope this DVD continues to sell well. This is my third Billy Hinsche DVD you have produced and they just keep getting better."
— Dave Maclean
"Too soon for me to speak... still wiping tears from my eyes... LOVED it of course... I noticed the common threads and words used to describe Carl... angel.. teacher.. mentor.. generous.. comfort.. grace.. God-like... forgive me I forget whose quote summed it up for me: 'The way he sang was the way he conducted his life.' Amen."
— Suzanne Dawn
"I greatly enjoyed your wonderful document on Carl. This is a beautiful piece of work. I was fortunate enough to meet Carl once when The Beach Boys played in Melbourne, Australia back in 1992. He was very gracious with his time and was kind enough to sign my copy of Sunflower. Thank you for reminding us that Carl was a tremendous human being and musician."
— Mark Kennedy
"I just finished watching Disc 1 of Carl Wilson: Here and Now. It is really outstanding; great to hear all of the reminiscences. Wonderful for us regular folk who are such huge fans. Thanks so much for putting this together."
— Mark Halperin
"I received the DVD today — ended up watching the entire thing. If you are a fan of the original Beach Boys, you must get this. It is a 3-hour love letter to Carl Wilson. The only bad thing is that it brings back all of the sadness I felt when I heard of his death so many years ago."
— Linda Belmont
"Watched Here And Now last night Billy, really enjoyed it. Like the way it was in different sections covering a lot of things, very moving in places. I like the Guitarist section and seeing the Rickenbacker prototype and even the picks with their names on. The subject of guitars, basses and other instruments within The Beach Boys have never been covered a lot in documentaries or books, maybe because it doesn't appeal to fans who don't play anything themselves so it was great to see this. Personally I could watch a whole DVD on the subject. It is a great DVD Billy, be nice to see DVDs like this on the other individual Beach Boys as well. I really like the songs 'Here and Now Is Forever' & 'Life Is So Strange' at the end."
— Paul Childs
"Billy, just watched the full 3 hours; it was so incredibly wonderful and moving. Great job. Really enjoyed the interviews, particularly Jonah and Justyn's, and former bandmates. Can't get over how Jonah's body language, voice, facial expressions, etc., resembles that of a latter day Carl, right down to the beard. Also thought the ending was very well done; Annie is beautiful. You should be proud."
— Soprano Tony
"Billy, it was wonderful. I loved every second of it. Thank you for loving Carl so much to make the DVD."
— Holly Irving

DVD CREDITS
Produced and directed by Billy Hinsche
Co-producer Steve Latshaw
Edited by Billy Hinsche
Disc 1 — Total running time is 92 minutes
Disc 2 — Total running time is 91 minutes
Package photos by Gary Nichamin, courtesy of BRI
© 2011 MFM PRODUCTIONS, INC.
All rights reserved.
Standard/Region: Worldwide playback